Amyloid imaging and memory change for prediction of cognitive impairment
Alzheimer's Research & Therapy
2011
3:3
Published: 31 January 2011
The development of positron emission tomography (PET) amyloid imaging radiotracers has allowed the in vivo measurement of fibrillar β-amyloid (Aβ) throughout the brain. Amyloid imaging is contributing to the early detection of pathology and diagnosis of Alzheimer's disease (AD), to the selection and therapeutic monitoring of patients in clinical trials, and to differential diagnosis among dementia subtypes. In addition, it is enhancing our understanding of the role of Aβ in the temporal course of disease by allowing prospective assessment of early pathological changes and the cognitive correlates of these changes in Aβ deposition. PET imaging of fibrillar Aβ provides many opportunities for early diagnosis of cognitive impairment and the understanding of disease progression, but the prediction of clinical outcomes in cognitively unimpaired individuals remains challenging.
The large percentage of individuals who have substantial levels of Aβ but remain cognitively normal is a potential limitation in the use of amyloid imaging for prediction of clinical outcomes. Thirty to fifty percent of individuals who are clinically normal at death have sufficient Aβ plaques at autopsy to meet pathological criteria for AD [
1
,
2
]. Similarly, PET imaging studies also show that about 30% [
3
–
7
] of cognitively normal individuals have varying levels of increased Aβ on imaging. Some investigators argue that cognitively normal individuals with AD pathology are in a preclinical stage of AD [
8
–
10
]. However, we [
11
] and others [
12
] have shown that antemortem cognitive change in this group of 'asymptomatic AD' individuals does not differ significantly from cognitively normal individuals without AD pathology at autopsy, in contrast to the marked memory decline evident in those who develop subsequent cognitive impairment (Figure
1a
).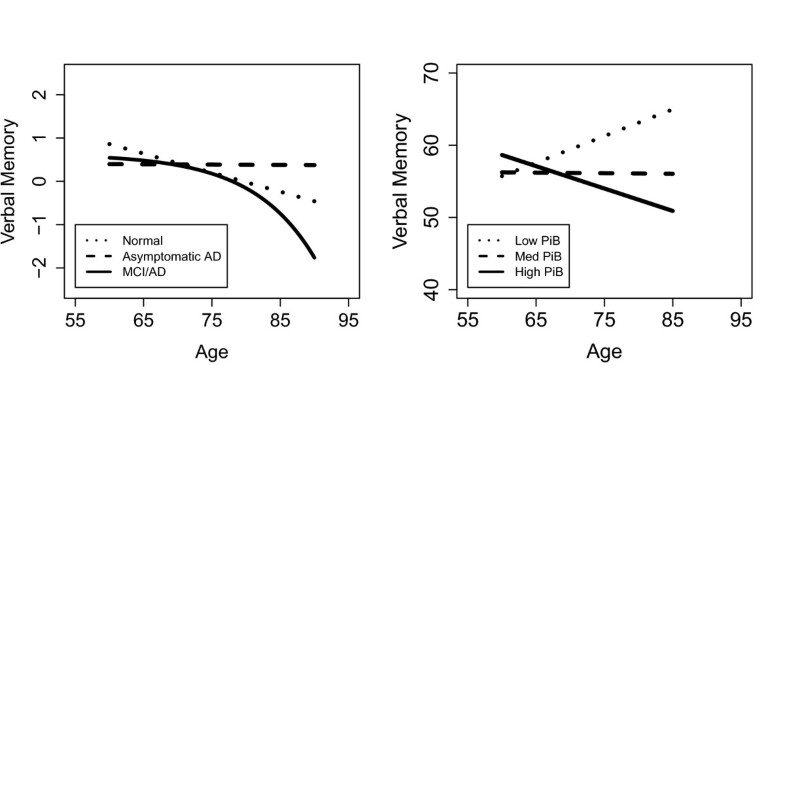 The challenge posed by these asymptomatic AD individuals in the application of PET Aβ imaging for clinical diagnosis has led some to question whether these tools will be useful in prediction of clinical outcomes. Individuals with elevated Aβ on PET imaging may not have passed fully through the risk period for AD and represent a heterogeneous group, with some at increased risk for cognitive impairment and others likely to remain healthy (as represented by the autopsy-defined asymptomatic AD group). In this paper, we suggest ways in which information from PET amyloid imaging can be used in combination with cognitive change to improve the utility of these measures for prediction of cognitive decline and impairment and to identify factors that promote cognitive resilience in the presence of Aβ pathology. We first review current evidence demonstrating differences in imaging-assessed Aβ burden among groups of AD, mild cognitive impairment (MCI) [13], and cognitively normal (CN) individuals. Next, we review cross-sectional and longitudinal studies of associations between Aβ deposition and cognitive performance. Finally, we conclude with a discussion of what amyloid imaging in conjunction with cognitive performance can and cannot tell us about prediction of cognitive impairment and resilience. We highlight how information from imaging and neuropsychological assessments can be used in combination to improve prediction of clinical outcomes and to enhance our understanding of the cognitive correlates of Aβ deposition and progression.
(1)
Laboratory of Behavioral Neuroscience, NIH Biomedical Research Center, National Institute on Aging, IRP, 251 Bayview Blvd, Room 4B335, Baltimore, MD 21224, USA
(2)
Russell H Morgan Department of Radiology and Radiological Sciences, Johns Hopkins University School of Medicine, 601 North Caroline Street, Baltimore, MD 21287-0807, USA
© BioMed Central Ltd 2010