Contactin-2, a synaptic and axonal protein, is reduced in cerebrospinal fluid and brain tissue in Alzheimer's disease
Alzheimer's Research & Therapy
2018
10:52
Received: 22 January 2018
Accepted: 9 May 2018
Published: 1 June 2018
Abstract
Background
Synaptic and axonal loss are two major mechanisms underlying Alzheimer's disease (AD) pathogenesis, and biomarkers reflecting changes in these cellular processes are needed for early diagnosis and monitoring the progression of AD. Contactin-2 is a synaptic and axonal membrane protein that interacts with proteins involved in the pathology of AD such as amyloid precursor protein (APP) and beta-secretase 1 (BACE1). We hypothesized that AD might be characterized by changes in contactin-2 levels in the cerebrospinal fluid (CSF) and brain tissue. Therefore, we aimed to investigate the levels of contactin-2 in the CSF and evaluate its relationship with disease pathology.
Methods
Contactin-2 was measured in CSF from two cohorts (selected from the Amsterdam Dementia Cohort), comprising samples from controls (cohort 1, n = 28; cohort 2, n = 20) and AD (cohort 1, n = 36; cohort 2, n = 70) using an analytically validated commercial enzyme-linked immunosorbent assay (ELISA). The relationship of contactin-2 with cognitive decline (Mini-Mental State Examination (MMSE)) and other CSF biomarkers reflecting AD pathology were analyzed. We further characterized the expression of contactin-2 in postmortem AD human brain (n = 14) versus nondemented controls (n = 9).
Results
CSF contactin-2 was approximately 1.3-fold reduced in AD patients compared with controls (p < 0.0001). Overall, contactin-2 levels correlated with MMSE scores (r = 0.35, p = 0.004). We observed that CSF contactin-2 correlated with the levels of phosphorylated tau within the control (r = 0.46, p < 0.05) and AD groups (r = 0.31, p < 0.05). Contactin-2 also correlated strongly with another synaptic biomarker, neurogranin (control: r = 0.62, p < 0.05; AD: r = 0.60, p < 0.01), and BACE1, a contactin-2 processing enzyme (control: r = 0.64, p < 0.01; AD: r = 0.46, p < 0.05). Results were further validated in a second cohort (p < 0.01). Immunohistochemical analysis revealed that contactin-2 is expressed in the extracellular matrix. Lower levels of contactin-2 were specifically found in and around amyloid plaques in AD hippocampus and temporal cortex.
Conclusions
Taken together, these data reveal that the contactin-2 changes observed in tissues are reflected in CSF, suggesting that decreased contactin-2 CSF levels might be a biomarker reflecting synaptic or axonal loss.
Keywords
Contactin-2Alzheimer's disease (AD)CSF biomarkerTauNeurograninBeta secretase 1
Background
Alzheimer's disease (AD) is the major cause of dementia worldwide [1]. AD patients are characterized by high levels of cerebrospinal fluid (CSF) tau reflecting tangle pathology whereas the underlying amyloid beta (Aβ) plaque pathology is mirrored by decreased levels of Aβ42 in the CSF [2]. However, about 30% of the cognitively normal elderly also have an AD CSF biomarker profile, making AD diagnosis complex [3, 4]. Thus, additional biomarkers are needed for a better diagnosis. Furthermore, synaptic dysfunction [5, 6] and axonal loss [7] are early events in the pathogenesis of AD [6, 8–12]. Synapse loss has been suggested to be related more strongly with cognitive impairment than plaque or tangle pathology [13–16]. Therefore, biomarkers reflecting these changes might be useful to support early diagnosis and prognosis of AD. Several synaptic biomarkers in CSF have been identified, such as neurogranin [17, 18], synaptotagmin [19], synaptosomal-associated protein (SNAP)-25 [20], and Ras-related protein (Rab)-3A [17]. Neurogranin is a promising synaptic biomarker which has been found to be specifically increased in AD [17, 18, 21]. So far, there are no established biomarkers for axonal loss specific for AD. Increased tau level has been related with axonal loss [7], but increased tau is a rather unspecific finding indicating neurodegeneration [22].
Contactin-2 is a soluble cell-adhesion protein primarily expressed on the axonal and synaptic membranes [23–29]. It belongs to the immunoglobulin superfamily and consists of six members (contactin-1 to contactin-6) [29, 30]. Contactin-2 is expressed in hippocampal pyramidal cells, cerebellar granule cells, the juxtaparanodal regions of myelinated nerve fibers [24, 30], and frontal and temporal lobes [23, 31]. Contactin-2 is a multifunctional protein that plays important roles in axonal guidance during development [32, 33], neuronal fasciculation [34], axonal domain organization [35], and neuron-glia interaction [36]. Interestingly, a genome-wide association study (GWAS) identified single nucleotide polymorphisms (SNPs) in the gene encoding contactin-2 (CNTN2) associated with AD [36]. Contactin-2 interacts with proteins involved in AD pathogenesis, such as amyloid precursor protein (APP) [37, 38] and beta-secretase 1 (BACE1) [37, 39, 40]. Lower levels of contactin-2 correlated with higher BACE1 activity in postmortem AD tissue [31]. Thus, the interactions between contactin-2 and BACE1 and APP proteins may influence the production of Aβ peptide and the subsequent formation of amyloid plaques. Interestingly, higher levels of contactin-2 have been reported in AD CSF pools using proteomics approaches [37].
We hypothesized that AD might be associated with changes in contactin-2 levels in both CSF and brain. In this study, we aimed to evaluate the potential for contactin-2 as a CSF biomarker candidate reflecting synaptic and axonal dysfunction in AD and to examine its relationship with other important players in AD pathogenesis. Moreover, we further characterized the expression of this protein in postmortem hippocampus to explore the potential role of this protein in AD pathogenesis.
Discussion
The main finding of this study is that the levels of the synaptic/axonal protein contactin-2 in the CSF differs between AD patients and controls, and is associated with other biomarkers, particularly tTau, pTau, Aβ40, BACE1, and neurogranin. Moreover, we also performed characterization of this protein in postmortem human brain tissue and found areas with reduced contactin-2 expression in and around fibrillar neuritic plaques.
Synaptic dysfunction and axonal loss are early events in AD preceding cognitive decline [5, 7]. Detection of changes related to these mechanisms may therefore contribute to early diagnosis of the disease. Our findings in the CSF reveal that contactin-2 is reduced in AD cases compared with controls in two cohorts, which challenges previous proteomics findings that identified increased levels of this synaptic protein in three pooled AD CSF samples [37]. However, the use of specific antibody-based technologies detecting very specific epitopes of contactin-2 in the current study may explain the observed discrepancies. Even though CSF contactin-2 levels were lower in AD patients compared with controls, there was a substantial overlap between the groups in both cohorts which may limit its diagnostic performance. Contactin-2 levels may even be increased in the early stages of AD and then decrease with disease severity as has been shown in longitudinal analysis of other neuronal injury markers [50]. Considering that synaptic/axonal changes occur in very early stages of the disease, it would be of interest to explore whether stronger or opposite changes are observed at earlier stages of the disease, and to study its potential as a diagnostic and prognostic marker for early AD. Interestingly, similar to the changes in CSF, contactin-2 levels were decreased in postmortem brain tissue of AD cases compared with controls. Our results are supported by a previous study that found a reduction in contactin-2 in hippocampal brain tissue homogenates of selected AD patients with high BACE1 activity compared with age-matched controls [31]. Therefore, these results not only indicate that contactin-2 is changed in the AD brain but also that such changes are reflected within the CSF, highlighting the potential of this protein as a novel biomarker for loss of synaptic/axonal integrity.
Synaptic biomarkers such as neurogranin have been suggested to reflect cognitive decline [18, 51]. In this study, we observed a correlation of CSF contactin-2 with MMSE, suggesting a possible relationship between contactin-2 and cognition. However, this could not be validated in the second cohort. Nonetheless, we found a strong correlation between contactin-2 and neurogranin, supporting the role of contactin-2 in synaptic dysfunction.
CSF contactin-2 correlated with tTau and pTau within the AD/control groups, being stronger within the control group, which suggests that contactin-2 is a sensitive marker reflecting general axonal loss and changes in tau homeostasis under normal physiological conditions. Immunohistochemical characterization of contactin-2 performed in postmortem brain tissue showed a reduction in contactin-2 expression in areas with neuritic amyloid plaques, characterized by thioflavin S, pTau, and Aβ staining. Therefore, similar to the findings in CSF, contactin-2 expression was also found to be related with tau in brain tissue, supporting the potential role of contactin-2 in axonal loss and incipient neurodegeneration.
CSF contactin-2 strongly correlated with Aβ40 and BACE-1, suggesting an association between contactin-2 and Aβ production. This is supported by previous studies showing that binding of contactin-2 to APP [
52
,
53
] enhances the production of the APP intracellular domain (AICD) in the cytosol with concomitant Aβ peptide generation [
54
,
55
] (Fig.
7
). Interestingly, thioflavin S-positive fibrillar plaques that show a stronger presence of Aβ40 than Aβ42 [
56
] had lower contactin-2, probably as a protective mechanism to avoid Aβ40 formation in those areas. We did not observe a strong absence of contactin-2 in areas with diffuse plaques (data not shown) that primarily consist of Aβ42 [
56
]. Similarly, correlation with Aβ42 was lacking in the CSF. Taken together, these data suggest that contactin-2 can influence the homeostasis of Aβ which may ultimately affect the formation of amyloid deposits and the pathogenesis of AD. The decrease in contactin-2 levels in AD might be a cellular protective mechanism to reduce the binding of contactin-2 with APP and thus subsequently lowering production of Aβ (Fig.
7
).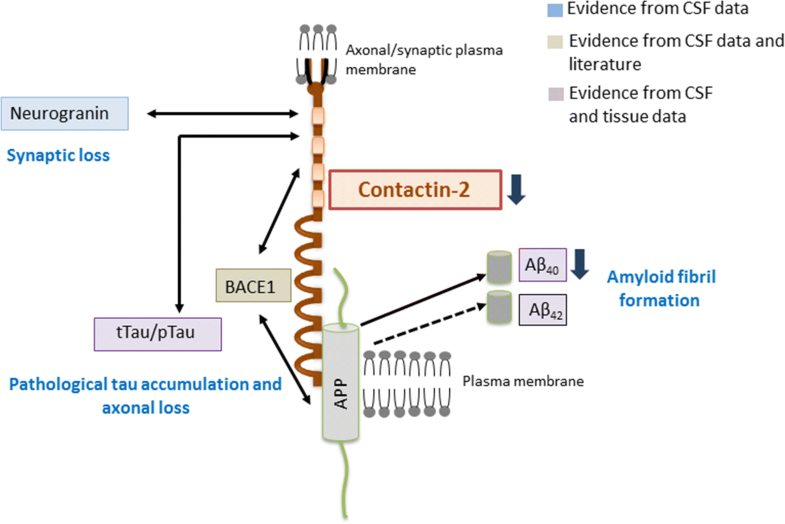 It should be noted that we observed positive correlations between contactin-2 and tau, BACE1, and neurogranin, which is the opposite to what can be expected on the basis of usually increased CSF levels of the latter proteins in AD. This indicates that contactin-2 is physiologically associated with these proteins strongly, demonstrated by high positive correlations within controls, and that a disease pathology such as AD possibly disrupts these associations making the correlations weaker in the CSF of AD patients. In addition, these discrepancies may occur because the correlations were analyzed within the AD and control groups separately rather than as a whole cohort. In the whole cohort, there is indeed a tendency towards negative correlation with Tau as expected (cohort 1, r = − 0.23, p = 0.09; Additional file 1: Figure S7). CSF BACE was not significantly changed in AD versus controls. Thus, a pattern in correlation may not be evident.
One limitation of this case-control study was the relatively small sample size, even though we eventually included 106 AD patients and 50 controls in the total group. Controls with subjective memory complaints, AD patients, or patients with other neurodegenerative disorders often present similar clinical symptoms [57] which might obscure the differences between the different clinical groups. However, AD patients were selected by clinicians from a specialized memory center based on the cut-off value for CSF tau to Aβ42 ratio [41] ensuring a more reliable diagnosis based on fluid biomarkers [58]. Another limitation of the study was that no cohort was used from another memory clinic. It would be interesting to investigate the levels of contactin-2 in larger independent cohorts and in AD patients in different stages of the disease.
Conclusions
In summary, this study reveals a reduction in the axonal and synaptic protein contactin-2 in two CSF cohorts and postmortem tissue, and indicates the potential of this protein as a novel AD CSF biomarker reflecting synaptic/axonal dysfunction. Future studies should investigate how contactin-2 is changed during the course of AD in a longitudinal study design with larger patient cohorts. In addition, studies revealing a mechanistic relation between contactin-2, Aβ, and tau are required to understand the bigger picture of the cell signaling pathway underlying AD pathogenesis and to open new leads for therapy development.
Abbreviations
AD:

Alzheimer's disease
AICD:

Amyloid precursor protein intracellular domain
APP:

Amyloid precursor protein
Aβ:

Amyloid beta
BACE1:

Beta-secretase 1
CSF:

Cerebrospinal fluid
CV:

Coefficient of variation
ELISA:

Enzyme-linked immunosorbent assay
IF:

Immunofluorescence
IHC:

Immunohistochemistry
MMSE:

Mini-Mental State Examination
pTau:

Phosphorylated tau
tTau:

Total tau
Declarations
Acknowledgements
The authors thank Marije Benedictus for selecting patients for the different cohorts, Johnny Aarnoutse for performing the neurogranin assay, Vera Wiersma for assistance with confocal microscopy, Harry Twaalfhoven for helping analyze contactin-2 ELISA validation data, and M.J. Koel-Simmelink for designing the ELISA validation protocol.
Funding
This project was funded by the European Neuroscience Campus Network, an Erasmus Mundus Joint Doctoral Program (cycle 5/2014/P-04). The funding sources had no role in the design of the study, the collection, analysis, and interpretation of data, or in writing the manuscript.
Availability of data and materials
The datasets used and/or analyzed during the current study are available from the corresponding author on reasonable request.
Authors' contributions
MC, MdW, and THJM performed the experiments. MDC prepared brain tissue samples and provided various protocols. WMvdF provided CSF samples and the patient database, and JJMH provided the postmortem patient samples. MC, MDC, THJM, JHJM, and CET analyzed the patient data, and MC, MDC, WMvdF, JJMH, and CET wrote the paper. MC, MDC, JJMH, and CET designed the research study. All authors read and approved the final manuscript.
Ethics approval and consent to participate
The ethical review board of the VU Medical Center approved the study, and all subjects provided written informed consent. This manuscript does not contain individual/personal details of subjects.
Consent for publication
Not applicable as this manuscript does not contain individual/personal details of subjects.
Competing interests
The authors declare that they have no competing interests.
Publisher's Note
Springer Nature remains neutral with regard to jurisdictional claims in published maps and institutional affiliations.
Open AccessThis article is distributed under the terms of the Creative Commons Attribution 4.0 International License (http://creativecommons.org/licenses/by/4.0/), which permits unrestricted use, distribution, and reproduction in any medium, provided you give appropriate credit to the original author(s) and the source, provide a link to the Creative Commons license, and indicate if changes were made. The Creative Commons Public Domain Dedication waiver (http://creativecommons.org/publicdomain/zero/1.0/) applies to the data made available in this article, unless otherwise stated.
Authors' Affiliations
(1)
Neurochemistry Laboratory, Clinical Chemistry Department, VU University Medical Center, Amsterdam, the Netherlands
(2)
Department of Pathology, VU University Medical Center, Amsterdam, the Netherlands
(3)
Alzheimer Center, VU University Medical Center, Amsterdam, the Netherlands
(4)
Department of Epidemiology & Biostatistics, VU University Medical Center, Amsterdam, the Netherlands