BACE1 inhibitor drugs in clinical trials for Alzheimer's disease
Alzheimer's Research & Therapy
2014
6:89
Published: 24 December 2014
Abstract
β-site amyloid precursor protein cleaving enzyme 1 (BACE1) is the β-secretase enzyme required for the production of the neurotoxic β-amyloid (Aβ) peptide that is widely considered to have a crucial early role in the etiology of Alzheimer's disease (AD). As a result, BACE1 has emerged as a prime drug target for reducing the levels of Aβ in the AD brain, and the development of BACE1 inhibitors as therapeutic agents is being vigorously pursued. It has proven difficult for the pharmaceutical industry to design BACE1 inhibitor drugs that pass the blood–brain barrier, however this challenge has recently been met and BACE1 inhibitors are now in human clinical trials to test for safety and efficacy in AD patients and individuals with pre-symptomatic AD. Initial results suggest that some of these BACE1 inhibitor drugs are well tolerated, although others have dropped out because of toxicity and it is still too early to know whether any will be effective for the prevention or treatment of AD. Additionally, based on newly identified BACE1 substrates and phenotypes of mice that lack BACE1, concerns have emerged about potential mechanism-based side effects of BACE1 inhibitor drugs with chronic administration. It is hoped that a therapeutic window can be achieved that balances safety and efficacy. This review summarizes the current state of progress in the development of BACE1 inhibitor drugs and the evaluation of their therapeutic potential for AD.
Keywords
Amyloid Precursor Protein
BACE1 Inhibitor
Amyloid Positron Emission Tomography
BACE1 Level
BACE1 Substrate
Introduction
The role of β-amyloid in Alzheimer's disease
The extracellular accumulation of amyloid plaques composed of the β-amyloid (Aβ) peptide represents one of the two defining lesions in Alzheimer's disease (AD) brain, the other being intracellular aggregation of hyperphosphorylated tau into neurofibrillary tangles. Recent results indicate that amyloid deposition begins ~10-20 years before the onset of dementia, suggesting that cerebral accumulation of Aβ has as a critical early role in AD pathogenesis [1]-[3]. If so, then inhibition of Aβ accumulation in the brain may benefit AD, if given early enough during the course of the disease.
Neurons are the major producers of Aβ in the brain, although glia, in particular astrocytes, may also contribute to Aβ generation, particularly during physiological stress that causes glial activation as happens in AD. The formation of Aβ is a sequential proteolytic process beginning with the cleavage of amyloid precursor protein (APP) by the β-secretase enzyme, which generates the amino (N) terminus of Aβ and yields the membrane bound C-terminal fragment C99 (Figure
1
A) [
4
]. Next, γ-secretase cuts C99 to release Aβ, which is secreted from the cell [
5
]-[
7
]. Interestingly, the γ-secretase cut is imprecise and creates Aβ isoforms of different lengths at the carboxy (C) terminus, of which the longer isoforms are highly associated with AD. Processing of APP by both β- and γ-secretases is necessary for the generation of Aβ, suggesting that inhibition or modulation of either or both of these proteases in the brain should decrease Aβ levels and be beneficial for AD.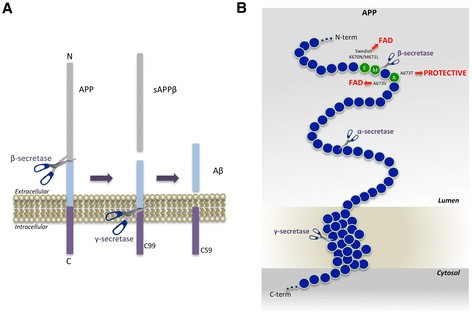 Human genetics studies have greatly informed us about AD pathogenesis and strongly suggest that cerebral Aβ accumulation has an essential role in the etiology of AD [2]. Thus far, over 200 autosomal dominant mis-sense mutations have been identified in the genes for APP and presenilin (the γ-secretase catalytic subunit) that are associated with familial AD (FAD). These FAD mutations are highly penetrant and without exception increase either the generation of all Aβ isoforms (total Aβ) or the relative proportion of the 42-amino acid isoform (Aβ42) that is more neurotoxic. Notably, FAD mutations in APP are found very near to the β- and γ-secretase cleavage sites, and these mutations serve to increase APP processing and raise levels of total Aβ or Aβ42 specifically. The so-called Swedish mutation (K670N; M671L) [8] and A673V [9] mutations in APP are particularly compelling, because they are positioned precisely at and only 2 amino acids C-terminal to the β-secretase cleavage site, respectively. These mutations make the cleavage of APP by the β-secretase enzyme more efficient, so greater amounts of C99 and total Aβ are generated (Figure 1B). In contrast, an APP mutation, A673T, has been recently identified that confers protection against AD and cognitive decline in the elderly [10]. This mutation, which occurs at the same position as the A673V mutation that causes FAD, is less efficiently cleaved by β-secretase so that Aβ generation is decreased by ~40% [10]-[12]. Interestingly, most carriers have one copy of the A673T mutation and likely have a reduction in Aβ production of only ~20%, yet they are still protected against AD. This implies proof-of-principle of the strategy that modest reduction of brain Aβ levels may prevent AD, if started early enough. Additionally, the Swedish, A673V, and A673T mutations together strongly suggest that inhibition of β-secretase cleavage of APP should be beneficial for AD.
Conclusions
As the β-secretase enzyme that initiates the production of Aβ, BACE1 is a key therapeutic target for AD. The protective A673T APP mutation in humans and genetic deletion of BACE1 in mice both decrease Aβ generation via reduced β-secretase processing of APP, providing strong proof of concept that BACE1 inhibition should be efficacious for AD. However, BACE1 null mice exhibit multiple complex neurological phenotypes (Table 1), suggesting that BACE1 inhibitor drugs might cause mechanism-based side effects involving hypomyelination, seizure, axon guidance defects, memory deficits, neurogenesis abnormalities, and neurodegeneration, and potentially others, resulting from insufficient BACE1 processing of a growing list of BACE1 substrates in neurons. Which, if any, of these BACE1 null phenotypes model BACE1 inhibitor side effects in humans remains to ne determined.
Despite the challenges of BACE1 inhibitor drug development over the past 15 years since the discovery of BACE1, the recent introduction of several BACE1 inhibitors into clinical trials has refocused attention on this promising therapeutic approach for AD. To date, Merck's MK-8931 has advanced the farthest to Phase 2/3, while the other drugs including those from AstraZeneca, Eisai, and Pfizer, among others, are in Phases 1 and 2. These compounds are potent, achieving up to ~90% CSF Aβ reduction. Additionally, they are well-tolerated for the most part, although two BACE1 inhibitors have recently been terminated due to toxicity that might not be related to the BACE1 mechanism of action.
The most challenging questions for BACE1 inhibitor clinical development concern the level of BACE1 inhibition and the stage of AD at which to treat for optimal efficacy. Hypothetical arguments based on the A673T APP mutation and BACE1+/− mice suggest that ~50% BACE1 inhibition might achieve ~20% Aβ reduction, which could prevent AD if begun well before significant amyloid deposition. However, it is unclear whether any level of BACE1 inhibition can be effective if major amyloid accumulation is present in the brain. Amyloid PET imaging, CSF Aβ42 measurement, and other biomarker studies suggest that amyloid deposition starts years, even decades, before the clinical diagnosis of dementia. Moreover, the relationships between amyloid burden and cognitive impairment are not sufficiently well understood to determine the stage of AD that BACE1 inhibitor treatment would be most effective. Results from ongoing biomarker studies, future treatment and prevention trial, and pharmacodynamic modeling are expected to establish the appropriate level of BACE1 inhibition and stage of AD for optimal efficacy. Like the statins for hypercholesterolemia, the hope is that a therapeutic window of BACE1 inhibitor doses might be found that reduces cerebral Aβ levels enough for efficacy, yet maintains sufficient BACE1 activity for the avoidance of side effects. When eventually published, the results of the current BACE1 inhibitor clinical trials will prove invaluable for solving these important questions. We are at a crucial juncture in BACE1 inhibitor drug development, and the therapeutic potential of BACE1 inhibition for AD will be definitively answered in the not too distant future.
Authors' information
RV is Professor of Cell and Molecular Biology at the Feinberg School of Medicine, Northwstern University, Chicago, IL, USA. He co-discovered BACE1 in 1999 and currently conducts research on the physiological functions of BACE1 and the role of BACE1 in Alzheimer's disease.
Abbreviations
AD:

Alzheimer's disease
APP:

Amyloid precursor protein
Aβ:

β-amyloid peptide
BACE1:

β-site APP cleaving enzyme 1
C99:

Carboxy-terminal 99 amino acid fragment of APP generated by BACE1 cleavage
sAPPβ:

Amino terminal ectodomain fragment of APP generated by BACE1 cleavage
Declarations
Acknowledgements
I thank Dr. Patty Kandalepas for making the figures. I also thank Drs. Bruce Albala and Patrick May for reading and making useful comments on the Eisai and Lilly BACE1 inhibitor clinical trial sections, respectively.
Authors' Affiliations
(1)
Department of Cell and Molecular Biology, Northwestern University, The Feinberg School of Medicine, Chicago, USA
Copyright
© Vassar; licensee BioMed Central. 2014
This article is published under license to BioMed Central Ltd. The licensee has exclusive rights to distribute this article, in any medium, for 12 months following its publication. After this time, the article is available under the terms of the Creative Commons Attribution License (http://creativecommons.org/licenses/by/4.0), which permits unrestricted use, distribution, and reproduction in any medium, provided the original work is properly credited. The Creative Commons Public Domain Dedication waiver (http://creativecommons.org/publicdomain/zero/1.0/) applies to the data made available in this article, unless otherwise stated.