Proteinopathy-induced neuronal senescence: a hypothesis for brain failure in Alzheimer's and other neurodegenerative diseases
Alzheimers Res Ther
2009
1:5
Published: 13 October 2009
Genetic, pathological, biochemical, animal and cell modeling studies provide strong support for the general hypothesis that accumulation of misfolded, aggregated proteins in the brain triggers a complex series of events that result in neuronal degeneration [1–4]. In Alzheimer's disease (AD) aggregation and accumulation of the amyloid β (Aβ) protein and microtubule associated protein tau (MAPT) have both been implicated as key pathogenic 'triggers' [5]. Aβ accumulates in senile plaques, cerebral vessels, and, to a more limited extent, within neurons [6]. Tau accumulates inside cells as neurofibrillary tangles and tau neurites [7]. In genetic forms of AD the data overwhelmingly support the 'Aβ aggregate/amyloid cascade' hypothesis, which posits that Aβ aggregation and accumulation precedes, and therefore drives, tau accumulation [3]. In 'sporadic' cases it is also possible that the two pathologies may arise, at least in part, through independent pathways [8]. Like familial AD, mutations in a number of genes result in accumulation of protein aggregates (for example, ABri, ADan, superoxide dismutase, α-synuclein, huntingtin, ataxins, and neuroserpin), triggering the pathological cascade that leads to many phenotypically distinct neurodegenerative diseases [1–3, 9, 10].
Herein, we will refer to the generic concept of misfolded protein aggregation and accumulation as a proteinopathy. Although there is reasonable consensus in the field regarding proteinopathies as 'triggers' of neurodegeneration, there is little consensus regarding the mechanisms that lead to neuronal demise. Using the Aβ and tau proteinopathies in AD as examples, we will present an integrated hypothesis of how central nervous system (CNS) proteinopathies cause neurodegeneration through a cascade initially involving innate immune activation, inflammation, induction of senescence, and subsequent neurodegeneration. We will refer to this integrated hypothesis as the proteinopathy-induced senescent cell hypothesis of neurodegeneration (Figure
1
). Along with a detailed presentation of the hypothesis and current experimental data that support this hypothesis, we will outline the experimental steps needed to validate this hypothesis and explore its potential significance with respect to therapeutic development for AD and other neurodegenerative proteinopathies.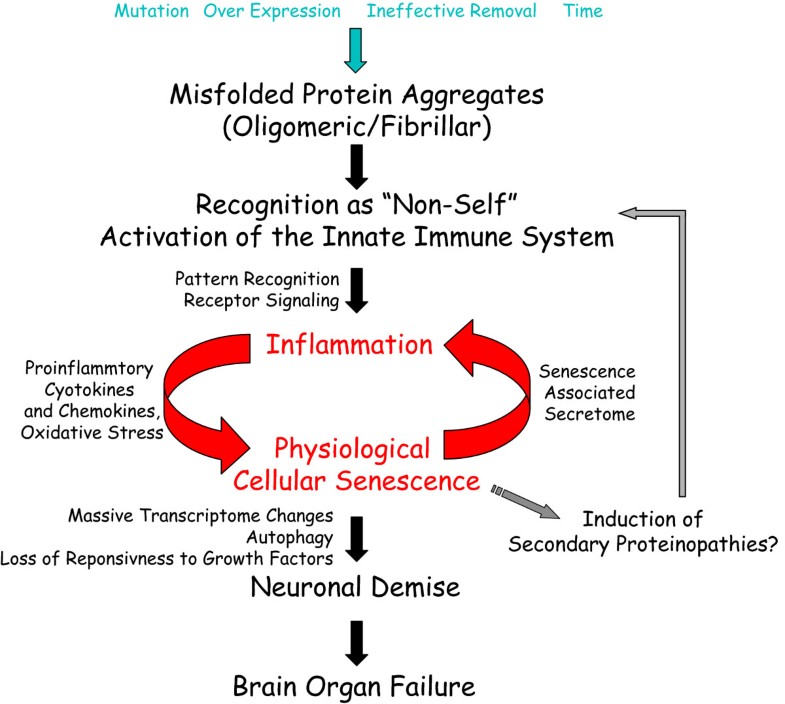 (1)
Department of Neuroscience, Mayo Clinic, Mayo Clinic College of Medicine, 4500 San Pablo Road, Jacksonville, Florida, 32224, USA
© BioMed Central Ltd 2009