Classification of the primary progressive aphasias: principles and review of progress since 2011
Alzheimer's Research & Therapy
2016
8:16
Abstract
Highly influential recommendations published in 2011 for the classification of the primary progressive aphasias (PPA) distinguished three subtypes: the semantic variant, the nonfluent/agrammatic variant, and the logopenic variant. We review empirical evidence published after 2011 that bears relevance to the validity of the recommended classification scheme. The studies that we review principally rely on monocentric, memory clinic-based consecutive series of PPA patients. We review whether a data-driven analysis of neurolinguistic test scores confirms the subtyping that was based on expert consensus, whether the 2011 subtyping covers the diversity of PPA in a comprehensive manner, and whether the proposed subgroups differ along dimensions that are not explicitly part of the defining criteria, such as diffusion tractography. Data-driven mathematical analyses of neurolinguistic data in PPA broadly confirm the presence of separate clusters corresponding to the subtypes but also leave 15–30 % unclassified. A comprehensive description of PPA requires the addition of the mixed variant as a fourth subtype and needs to leave room for cases fulfilling the criteria for a root diagnosis of PPA but not those of any of the three subtypes. Finally, given the limited predictive value of the clinical phenotype for the underlying neuropathology, biomarkers of the underlying pathology are likely of clinical utility in PPA.
Keywords
Progressive Supranuclear Palsy
Semantic Dementia
Semantic Variant
Primary Progressive Aphasia
Perirhinal Cortex
Background
Consensus recommendations for the classification of primary progressive aphasia were published in 2011 [1], partly motivated by the need to consolidate the logopenic variant (LV) [2, 3] as a third subtype in addition to the nonfluent/agrammatic variant (NFV) [4] and the semantic variant (SV). The latter is also known as semantic dementia [5]. The LV is associated with substantially higher probability of Alzheimer's disease (AD) compared with the other two subtypes—hence its clinical relevance [2, 3]. We describe the principles of the PPA classification scheme and review evidence that appeared after the recommendations were published and that bears on the validity of this classification scheme and may also point to possible ways in which the classification scheme could be further improved.
The current recommendations for classifying PPA cases
Cases who do not fit into any of the three classes
In a monocentric series of 84 PPA patients [49], 31 % could not be assigned to any of the three subtypes. In another monocentric retrospective series, this occurred for 5 out of 30 PPA cases [27]. In a third monocentric longitudinal PPA series of 46 patients, 41 % did not fulfill criteria of any of the three subtypes according to Sajjadi et al. [50]. In the latter series the proportion of LV was only 4 % [50], suggesting that the unclassifiables contained cases that in other series could have been assigned to LV. Indeed, in a series by Sajjadi et al. [51] volumetric analysis of 14 unclassified patients revealed an "LV PPA like" pattern. This led the authors to conclude that the unclassifiable cases are more likely "AD-related aphasias." A case can be unclassifiable because it is missing some of the positive features that are necessary for assigning it to one of the three subtypes proposed by Gorno-Tempini et al. [1]. A case can also be unclassifiable because positive features belonging each to different subtypes occur in combination. The mixed variant is the most typical example of the latter.
The mixed subtype
The mixed subtype exhibits word comprehension deficits along with speech apraxia or agrammatism, a combination of positive findings that does not occur in the current classification [
6
,
52
] (Fig.
5
). In our experience, this mixed variant is not rare. In a consecutive series of PPA cases at our memory clinic, 3 out of 21 are of the mixed variant, a proportion similar to that reported by Mesulam et al. [
6
] (2 out of 25). A group-based volumetric analysis of mixed PPA revealed atrophy in inferior frontal, superior temporal, and anterior temporal cortex [
6
]. Among six patients with mixed variant PPA, four had AD as underlying pathology, one had FTLD-tau, and one had mixed pathology of AD and TDP-A [
9
].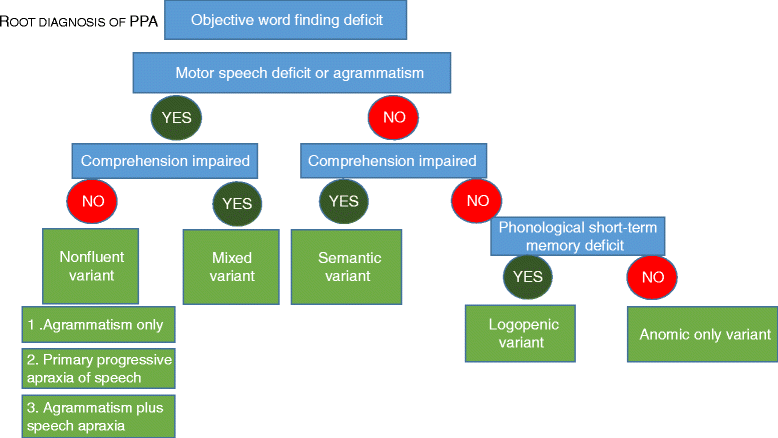 Anomic-only PPA
Patients may fulfill the root criterion of PPA based on their anomia, in the absence of any of the other features that distinguish between subtypes, most notably normal performance on repetition of complex sentences and on word comprehension and no motor speech problems that would permit assignment to one of the three subtypes (Fig. 5). The prevalence in a series of PPA patients was 3 out of 25 [6]. A somewhat related subclass are PPA-L*, who have prominent word finding problems during spontaneous speech but have relatively preserved confrontation naming. PPA-L* have a hesitant spontaneous speech but are missing the repetition deficit typical of LV [9]. It is conceivable that these cases may develop some of the distinguishing features later in the course of the disease.
Towards an etiological diagnosis of PPA
The clinical utility of biomarkers such as cerebrospinal fluid Aβ42 and amyloid PET in patients with PPA presenting in a memory clinic depends on the difference between pre- and post-test odds of an etiological diagnosis [53] and on the clinical benefit of potential changes in patient management.
Increase in diagnostic accuracy
None of the three phenotypic subtypes entirely excludes the possibility of AD as the underlying cause. PPA LV has the highest positive predictive value for AD neuropathology but, even so, neuropathological series show a prevalence of AD pathology in PPA LV of only 50–60 % [9, 26]. Inversely, PPA SV or NFV are far more often due to FTLD but can be caused by AD in 10–25 % of cases [9, 26]. The prevalence of AD as the underlying cause in the other categories, such as mixed or anomic variant, is currently unknown. Hence, the highest yield of biomarkers would probably be obtained in LV, anomic or mixed-variant PPA, and in SV in an early phase.
Clinical utility
The clinical utility of an etiological diagnosis in PPA has not been proven empirically. Conceivably, patients with PPA due to AD may have a cholinergic deficit and hence benefit from cholinesterase inhibitors. Prognostically, the time course expected in patients with PPA due to AD may differ from that in PPA due to a TDP43 proteinopathy or a tauopathy such as CBD or PSP. For instance, the behavioral manifestations may be qualitatively different in FTLD compared with AD, with more obsessive-compulsive behaviors, lack of empathy, and eating abnormalities. In case of PPA due to tauopathy, limb apraxia, gait and postural problems, and dysphagia may impair the autonomy of the patient earlier in the course of the disease compared with PPA due to AD. Inversely, the cognitive domains affected over the disease course in LV due to AD may expand into nonverbal domains. A correct etiological diagnosis at the initial stage may help the patient, caregiver, and physician to anticipate specific problems which may benefit patient management. A correct etiological diagnosis in vivo could also be a prerequisite for success in clinical drug development aimed at disease modification.
Need for modification of the criteria?
Unclassified PPA
In itself the observation that a substantial proportion of cases who fulfill the root criterion of PPA do not fall into one of the subtypes (the anomic-only variant) is not necessarily a reason for a revision, as long as these cases are not "forced" into one of the subtypes when communicating research findings or in clinical practice. It is important to recognize in the clinic and in research that the three subtypes do not encompass the full spectrum of PPA phenotypes, as described above [27]. The question then becomes whether within the unclassifiable cases some patterns can be discerned that merit the status of an additional subtype (Fig. 5).
Addition of subtypes
For the purpose of communicating research findings we believe that there is sufficient evidence and also a need to allow for one additional denotation: the mixed subtype. Based on the prevalence reported, ignoring this subtype would lead to misclassification of about 15 % of cases in research papers on PPA. This additional subtype constitutes an important target group for further research to determine the anatomical and etiological basis and the potential relevance for patient treatment.
Subdivision of subtypes
Within the NFV, a more fine-grained level of description would specify the agrammatic-only variant, the speech apraxia-only variant, and the combination of both [42]. There are two caveats: it remains to be proven that the underlying neuropathology differs sufficiently between these subdivisions; and such a subdivision heavily relies on evidence that either motor speech or grammatical processing is preserved and this critically depends on the sensitivity of tests and the disease stage.
Within the LV it may be more accurate to distinguish between a subgroup with more widespread language involvement and broader anatomical involvement resembling left hemisphere-dominant AD and a subgroup with LV restricted to phonological working memory deficit and focal damage of the temporoparietal transition zone. The more restricted form has a lower likelihood of AD than the more widespread form.
Conclusions
Obviously, from the patient and caregiver perspective, a revision would be justified if it has a positive impact on the management of individual patients, as was the case, e.g., for the LV subtype as a recognition of AD as the frequent underlying cause. The 2011 recommendations had an impact beyond research. Before a modification would be deemed of use for clinical practice, more empirical data would be needed regarding the impact of these modifications on prediction of the temporal course or neuropathology and on patient management. Clinically, in our opinion, a higher benefit will be gained from implementing in vivo biomarkers of underlying neuropathological lesions, such as cerebrospinal fluid biomarkers for AD or amyloid PET [53, 54], than from ever-increasing sophistication at the clinical-phenotypical level.
Abbreviations
AD:

Alzheimer's disease
BA:

Brodmann area
CBD:

corticobasal degeneration
FTLD:

frontotemporal lobar degeneration
LV:

logopenic variant
NFV:

nonfluent/agrammatic variant
PET:

positron emission tomography
PPA:

primary progressive aphasia
PSP:

progressive supranuclear palsy
SV:

semantic variant
TDP:

Tar DNA binding protein 43
Declarations
Acknowledgements
We thank Rose Bruffaerts and Jolien Schaeverbeke for their helpful suggestions. Supported by Inter-University Attraction Pole P6/29 (RV) and P7/11 (RV), KU Leuven OT/12/097 (RV) and Programme Financing (RV), Fund for Scientific Research - Flanders (FWO) G.0660.09 N (RV), Stichting Alzheimer Onderzoek grant number 15005. RV is senior clinical investigator of the FWO.
Open AccessThis article is distributed under the terms of the Creative Commons Attribution 4.0 International License (http://creativecommons.org/licenses/by/4.0/), which permits unrestricted use, distribution, and reproduction in any medium, provided you give appropriate credit to the original author(s) and the source, provide a link to the Creative Commons license, and indicate if changes were made. The Creative Commons Public Domain Dedication waiver (http://creativecommons.org/publicdomain/zero/1.0/) applies to the data made available in this article, unless otherwise stated.
Authors' Affiliations
(1)
Department of Neurosciences, Laboratory for Cognitive Neurology, KU Leuven, Leuven, Belgium
(2)
Neurology Department, University Hospitals Leuven, Leuven, Belgium
(3)
Alzheimer Research Centre KU Leuven, Leuven research Institute for Neuroscience & Disease, University of Leuven, Leuven, Belgium