Lung disease as a determinant of cognitive decline and dementia
Alzheimer's Research & Therapy
2015
7:32
Abstract
Almost 40 million people currently live with dementia but this is estimated to double over the next 20 years; despite this, research identifying modifiable risk factors is scarce. There is increasing evidence that cognitive impairment is more frequent in those with chronic lung disease than those without. Chronic obstructive pulmonary disease affects 210 million people, with cognitive impairment present in 60% of certain populations. Co-morbid cognitive dysfunction also appears to impact on important outcomes such as quality of life, hospitalisation and survival. This review summarises the evidence of an association between cognition, impaired lung function and obstructive lung disease. It goes on to examine the contribution of neuro-imaging to our understanding of the underlying pathophysiology. While the mechanisms of brain pathology and cognitive impairment are likely to be complex and multi-factorial, there is evidence to suggest a key role for occult cerebrovascular damage independent of traditional vascular risk factors, including smoking.
Keywords
Chronic Obstructive Pulmonary DiseaseMild Cognitive ImpairmentChronic Obstructive Pulmonary Disease PatientArterial StiffnessChronic Lung Disease
Introduction
The World Health Organization reports that 35.6 million people currently live with dementia but this is estimated to double over the next 20 years; despite this, research identifying modifiable risk factors is scarce. Mild cognitive impairment (MCI) is associated with a 5 to 10% annual conversion rate to dementia [1,2]. However, MCI is considered a potentially reversible state and not all of those with MCI go on to develop dementia. Therefore, clarifying which features predict progression to dementia and identifying modifiable targets is currently of great interest. The diagnosis of MCI generally requires the exclusion of co-morbid illness but there have been concerns about the generalisability of this approach given that 50% of those with MCI are thought to have a medical co-morbidity [3]. Chronic lung disease is one such medical co-morbidity with increasing evidence of an association with cognitive dysfunction and brain pathology.
Lung function and cognitive impairment
Individuals with chronic lung disease are thought to be at an increased risk of cognitive decline. This may be as a result of risk factors which occur more frequently in those with lung disease (that are already known to negatively impact on cognition, such as smoking and hypertension) and/or as a direct result of respiratory limitations (such as hypoxaemia). Figure
1
summarises some of the overlapping risk factors for cognitive impairment in both general and chronic lung disease populations. However, importantly it seems that there is an association between cognitive impairment and lung disease independent of these factors [
4
].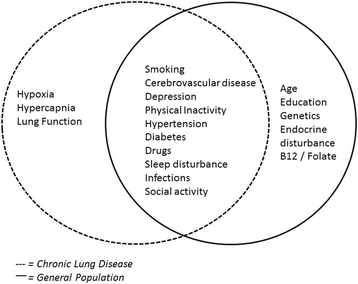 Lung function is most often measured by spirometry, giving forced expiratory volume in 1 second (FEV1) and forced vital capacity, standardised for age and gender. The association between lung function and cognition has been tested in a number of large healthy population studies, particularly in elderly groups [
4
]. The majority of studies support at least some independent association between lung function and cognitive performance (Table
1
).
Table 1
Lung function and cognition
Study design

Population

Comment

Reference

Longitudinal cohort

1990-2005

N = 10,975 men + women aged 47–70 years. Atherosclerosis Risk in Communities (ARIC) Study

Reduced lung function was associated with worse performance in cognitive assessments and with an increased risk of dementia hospitalization. No association was found between lung function and cognitive decline over time

[5]

Vietnam veteran study

N = 4,256 men aged 20 years

Poor cognitive ability in mid-life associated with reduced lung function in mid-life. Effects size small. Similar effects in non-smokers

[9]

Prospective observational study

N = 864 normative aging study. 12 year follow-up

Baseline FEV1 associated with visuo-spatial and global ability. Higher FEV1 associated with slower decline only in attention. Rate of decline in FEV1 not associated with cognition. Overall limited evidence of a relationship between FEV1 and cognitive decline

[6]

The Age, Gene/Environment Susceptibility Reykjavik Study: 23 year follow-up

N = 3,635; N = 1,281 subset 2/3 serial FEV1 over 7.8 years

Low mid-life FEV1/height predicted poor memory, processing speed, executive function MCI and dementia 23 years later. Decline in lung function over 7.8 years in mid-life was not associated with MCI or dementia

[8]

Longitudinal population Swedish Twin Study

N = 832 (50–85 year olds); 19 year follow-up

Changes in lung function led to subsequent changes in psychomotor speed and spatial abilities. No evidence that declines in cognitive function lead to subsequent decline in lung function

[83]

Longitudinal 23 year follow-up

N = 3,036 Japanese American males in Hawaii

Baseline FEV1 predict cognitive function (Cognitive Abilities Screening Instrument - CASI)

[84]

Healthy Longitudinal All ages

N = 2,551

FEV1 associated with cognitive function in all age groups, although significant associations were weak

[10]

MRC National Survey of Health and Development

N = 1,778 men and women

Mid-life FEV1 associated with mid-life psychomotor speed and decline over 10 years

[7]
The most comprehensive study comes from a longitudinal analysis of over 10,000 healthy men and women with repeated cognitive assessments between 1990 and 2006. This showed that impaired lung function was independently associated with worse cognitive function at baseline and higher subsequent risk of dementia hospitalization. However, no association was found between lung function and cognitive decline over time [5]. Other studies have shown mixed results, and where significant associations have been found they are not universal [6]. For example, mid-life lung function predicts mid-life psychomotor ability, memory, processing speed and executive function, but only psychomotor ability declined significantly over time [7,8]. Age is understood to be the most significant predictor of cognition and FEV1 also declines with age. However, FEV1 has been shown to be significantly and independently associated with cognitive function in all ages groups, though correlations can be weak [9,10].
Overall it appears that lung function is independently associated with measures of cognition and rate of cognitive decline. A lack of standardised neuropsychological assessments and variability in adjustment for confounders between studies currently limit clinical interpretation.
Obstructive lung diseases
Mechanisms
Early studies of cognitive performance in COPD focused on hypoxaemia, but cognitive impairment is present in the absence of hypoxaemia and explains only a small proportion of the variance in cognitive ability in those patients with COPD who are hypoxaemic [4,42]. The acute neuropsychological effects of hypoxaemia have been studied in healthy volunteers; results suggest that it is responsible for minor deficits in complex reasoning, reaction times and word finding, in addition to reduced practice or 'learning' effect on repeated testing [51-53]. Little is known about the chronic effect of hypoxaemia in the absence of lung pathology. It has been suggested that oxygen-dependent enzymes important in the synthesis of neurotransmitters such as acetylcholine may be the pathophysiological pathway responsible for neuronal dysfunction during hypoxaemia [54].
Cognitive impairment is a known consequence of cerebral small-vessel disease and recent neuroimaging studies suggest that occult cerebrovascular damage plays a key role in brain damage and dysfunction in COPD [55,56]. Support for a vascular-mediated brain pathology is provided by a study in 202 individuals with dementia collected over 17 years. In this post-mortem study 45.5% had cerebral atherosclerosis, and in a subgroup of 52 who went on to have full autopsy, emphysema was present in 36.5% [57].
Arterial stiffness is a non-invasive measure of vascular function and accurately predicts cardiovascular and cerebrovascular events. Arterial stiffness is thought to contribute directly to end-organ vascular damage through reduced vessel compliance, excessive pressure pulsatility resulting in vascular remodelling and impaired blood flow [58-60]. There is evidence of increased aortic stiffness in COPD, independent of smoking, which also relates to degree of airflow limitation and percentage emphysema on thoracic computed tomography scan [60,61]. It has been suggested that arterial stiffness in COPD may be due to increased susceptibility to degradation of connective tissue or accelerated aging. These factors are also implicated in the development of emphysema, suggesting a potential shared pathophysiology between pulmonary and vascular disease in COPD [61].
A comprehensive review of vascular disease in COPD presents several plausible mechanisms, including systemic inflammation (interleukin-6, C-reactive protein), oxidative stress (through activation of matrix metalloproteinases), physiological stress (hypoxia, sympathetic nervous system activation), accelerated aging and protease/antiprotease imbalance. It is argued that many of these pathways are abnormal in COPD, independently predict cardiovascular disease and show direct pathophysiological links to the development of emphysema [62].
Acute exacerbations of COPD are events characterised by a change in baseline breathlessness, cough, and or sputum. Exacerbations are triggered by a combination of host and external factors, including airway infection and environmental pollution [63]. COPD exacerbations are associated with significant risk of death, with an in-hospital mortality of 7.7% and a 90-day mortality of 13.9% [64]. Cognitive function has been assessed among patients hospitalised with acute exacerbation and compared with individuals with COPD but without exacerbations and healthy controls [42]. In this study over half of those with exacerbation had moderate to severe cognitive impairment, most severely affecting executive function and associated with duration of hospitalisation and reduced quality of life. In the same study cognitive impairment did not appear to recover at 3 months. Whilst this could be due to pre-existing cognitive deficit, there are plausible mechanisms by which exacerbations may influence cognition and brain pathology. These relate to the acute physiological changes associated with infection and respiratory failure. In addition, recent work suggests that exacerbations are inflammatory episodes associated with arterial stiffness and myocardial injury [65].
Brain pathology and lung disease
Smoking has been shown to be associated with a reduction in volume and density of frontal grey matter, risk of stroke, pre-clinical brain changes and cerebral atrophy on magnetic resonance imaging (MRI) [66,67]. Impaired lung function has been associated with greater cerebral white matter lesions, independent of conventional vascular risk factors, including smoking, in large population studies [68-70]. The Copenhagen Heart study showed a 30% increased risk of cerebral infarction amongst those with poor lung function (FEV1) [71]. In a smaller community sample, a significant association was observed between lung function and both cerebral atrophy and volume of white matter lesions in men with what was termed 'chronic respiratory disease', but not in women or healthy controls [72].
Table
2
summarises studies reporting on the relationship between brain pathology and COPD. Two recent case–control studies suggest that COPD is associated with reduced hippocampal and grey matter volumes, which appear to correlate with measures of disease severity and cognitive function [
73
,
74
]. A subgroup of patients on inhaler medication (that may have included individuals with COPD) from the Rotterdam population study had more severe periventricular white matter lesions than healthy participants [
75
]. However, a study on a smaller but well-defined sample of COPD patients with and without oxygen dependence found no difference between patients and healthy controls in either white matter lesion or cerebral tissue volumes [
76
]. More recently, a large population study showed that COPD was an independent risk factor for cerebral microbleeds at baseline and a significant increased risk of developing deep and paratentorial cerebral microbleeds over time, suggestive of hypertensive or arteriolosclerotic microangiopathy [
55
].
Table 2
Neuroimaging and chronic obstructive pulmonary disease
Study design

Population

Cognitive measures

Imaging

Conclusions/comments

Reference

Case control

6 severe COPD

NPT

MRI

SCOPD worse language, executive and visuo-spatial COPD smoked more and increased previous diabetes. No difference in brain volumes. SCOPD frontoparietal and periventricular white matter hyperintensities. Small differences? smoking related

[85]

13 moderate COPD

T1

12 cognitive normal

Diffusion

? non-hypoxaemic

Case control

25 stable COPD versus 25 controls

NPT

MRI

COPD worse MMSE, visual reproduction, figure memory test. COPD reduced GM volume. In COPD some regions correlated with oxygenation and regional GM volume was negatively correlated with disease duration. GM volume in inferior triangular frontal cortex in COPD correlated with picture memory score

[74]

T1 and VBM

Case control/longitudinal Rotterdam study

N = 165 COPD

-

MRI susceptibility weighted imaging

COPD greater CMBs at baseline independent of risk factors, including medications such as anti-thrombotics. COPD odds ratio 7.1 of developing deep/paratentorial CMB

[55]

N = 645 controls

Case control

N = 37 mild to moderate COPD

MMSE

MRI

The hippocampal volume was significantly smaller in COPD. It positively correlated with MMSE score, oxygen saturation in mild to moderate COPD patients, and levels of blood oxygen in both mild to moderate and severe COPD patients

[73]

N = 31 controls

Case control

25 stable non-hypoxaemic

NPT

MRI volumes, DTI, rfMRI

No age-related atrophy, reduced white matter integrity and increased resting state activation, whiter matter damage widespread and independent of traditional vascular risk measures, may account for cognitive impairment

[56]

25 controls

Case control

N = 25 stable

MMSE

MRI, DTI

Reduced GM density and increased fractional anisotropic values in COPD. Possible correlations with oxygen levels, visual tasks and disease duration. But small numbers, weak correlations

[78]

N = 25 controls

Case control

9 controls

NPT

MRI volumes

COPD had worse global cognition, memory, mood, but no difference in brain volumes or spectroscopy. Controlled for age gender and education

[76]

18 COPD (9 oxygen-dependent)

Cross-section non-demented elderly community cohort (N = 1,077)

Age 60–90 years

-

MRI

COPD diagnosis had more severe periventricular white matter lesions. But COPD and oxygen not associated with subcortical white matter lesions or lacunar infarcts. Low oxygen saturations independently associated with more severe periventricular white matter lesions

[75]

Adjusted for age, sex, hypertension, DM, BMI, pack years, cholesterol, Hb, MI, LVH.
Diffusion tensor imaging has been shown to be a more sensitive measure of white matter microstructural damage [77]. Recent small, cross-sectional case–control studies in COPD populations show widespread white matter microstructural damage independent of smoking [56,78]. In healthy older individuals, white matter microstructure in the corpus collosum correlated with cardiorespiratory fitness (oxygen uptake (VO2) peak r = −0.458) with subsequent tractography suggesting pre-frontal connections associated with motor planning [79].
Resting-state functional MRI measures low-frequency fluctuations in blood oxygen level-dependent signals in the brain at rest. In a study comparing stable non-hypoxaemic individuals with COPD to age-matched controls, patients with COPD had increased activation in seven out of eight of these networks. This increased activation of grey matter in COPD may reflect attempts to overcome damaged white matter pathways [56].
Finally, an MRI spectroscopy study in patients with non-hypoxic severe COPD showed that cerebral metabolism was significantly altered and that the pattern of derangement differed from that seen in heart failure and diabetes [80].
There are very few neuroimaging studies specifically in asthma. An MRI study of 17 people on long-term steroids suggests a possible reduction in hippocampal volume and declarative memory compared with controls [18]. In an ovalbumin-induced mouse model of asthma, there was evidence of impaired learning and hippocampal damage [81]. Finally, a recent MRI study of 19 to 47 year olds with mild to moderate asthma showed that incidental brain abnormalities were common (62%), of which 25% were white matter hyperintensities [82].
Discussion and conclusions
The benefits of increasing our understanding of the relationship between chronic lung disease and cognitive impairment are two-fold. First, it may help to identify modifiable risk factors and therapeutic interventions to reduce the risk of developing dementia. Second, it provides the opportunity to reduce the impact of cognitive impairment on this vulnerable population with a chronic long-term condition, COPD.
Impaired lung function has been shown to independently predict cognitive performance but evidence of an association with cognitive decline is mixed. COPD is a common multi-system disease with growing evidence of an accelerated cognitive decline. The mechanisms of brain pathology and cognitive impairment are likely to be complex and multi-factorial but MRI suggests a potential COPD-specific cerebrovascular effect. This provides an appealing therapeutic target for reversing or halting cognitive decline in this population. Further studies are therefore required to clarify cerebrovascular mechanisms of brain pathology and cognitive impairment in COPD.
Note
This article is part of a series on The impact of acute and chronic medical disorders on accelerated cognitive decline, edited by Carol Brayne and Daniel Davis. Other articles in this series can be found at http://alzres.com/series/medicaldisorders
Abbreviations
COPD:

chronic obstructive pulmonary disease
FEV1:

forced expiratory volume in 1 second
MCI:

mild cognitive impairment
MMSE:

Mini Mental State Examination
MRI:

magnetic resonance imaging
Declarations
Acknowledgements
Professor Paul W Jones, St George's University of London, for helpful comments regarding the content of the manuscript prior to submission.
Authors' Affiliations
(1)
Academic Respiratory Unit, School of Clinical Sciences, University of Bristol, Learning & Research Building, Southmead Hospital, Bristol, UK
Copyright
© Dodd; licensee BioMed Central. 2015
This is an Open Access article distributed under the terms of the Creative Commons Attribution License (http://creativecommons.org/licenses/by/4.0), which permits unrestricted use, distribution, and reproduction in any medium, provided the original work is properly credited. The Creative Commons Public Domain Dedication waiver (http://creativecommons.org/publicdomain/zero/1.0/) applies to the data made available in this article, unless otherwise stated.