Imago Mundi, Imago AD, Imago ADNI
Alzheimer's Research & Therapy
2014
6:62
Published: 29 August 2014
Abstract
Since the launch in 2003 of the Alzheimer's Disease Neuroimaging Initiative (ADNI) in the USA, ever growing, similarly oriented consortia have been organized and assembled around the world. The various accomplishments of ADNI have contributed substantially to a better understanding of the underlying physiopathology of aging and Alzheimer's disease (AD). These accomplishments are basically predicated in the trinity of multimodality, standardization and sharing. This multimodality approach can now better identify those subjects with AD-specific traits that are more likely to present cognitive decline in the near future and that might represent the best candidates for smaller but more efficient therapeutic trials - trials that, through gained and shared knowledge, can be more focused on a specific target or a specific stage of the disease process. In summary, data generated from ADNI have helped elucidate some of the pathophysiological mechanisms underpinning aging and AD pathology, while contributing to the international effort in setting the groundwork for biomarker discovery and establishing standards for early diagnosis of AD.
Keywords
Mild Cognitive ImpairmentMild Cognitive Impairment SubjectMild Cognitive Impairment IndividualSubcortical Vascular DementiaUnimpaired Individual
Introduction
Since the launch in 2003 of the Alzheimer's Disease Neuroimaging Initiative (ADNI) in the USA, ever growing, similarly oriented consortia have been organized and assembled around the world. At the core of its conception, the ADNI is a multicenter and multidisciplinary approach for the study and longitudinal characterization of the natural history of aging and Alzheimer's disease (AD) by means of structural and functional neuroimaging and fluid biomarkers along with clinical evaluations and neuropsychological assessments. Over the years, the aims and scope of the ADNI were expanded and refined, always aiming at increasing our understanding of the pathogenesis of AD - knowledge that can be now translated into more accurate and sensitive diagnostic and prognostic tests and techniques to guide therapeutic interventions by predicting and/or by monitoring response to therapy.
The ADNI proposed a novel and unique way of doing business. From the very beginning, data obtained by the study have been freely shared without embargo with the scientific community. For that purpose, data from the respective streams were centralized to ensure quality, and were made available to any registered researcher around the world. This sharing allows validation of results, as well as the identification of the most relevant and sensitive parameters at each stage of the disease that can be then translated into the design of therapeutic trials. This sharing also allows probing, challenging and comparing techniques for their diagnostic, prognostic and/or theragnostic value, testing new approaches, exploring new avenues and postulating new questions. This is perfectly illustrated by a case in which the same North American Alzheimer's Disease Neuroimaging Initiative (NA-ADNI) magnetic resonance imaging (MRI) dataset yielded different longitudinal estimates of brain atrophy due to a methodological bias [1],[2], and how this bias was corrected [3]. While a series of steps were proposed to avoid similar issues in the future [4], this case underscored the need for a gold standard and highlighted how such a gold standard might need to be redefined under the new light of biomarkers [4],[5].
These issues have not discouraged researchers around the world, and they have been steadily and increasingly accessing and downloading ADNI data. The latest available reports show that ADNI data were accessed from more than 35 countries worldwide, by researchers at academic and governmental institutions, as well as by those in pharmaceutical and biotechnology industries [6],[7]. Furthermore, the ADNI in collaboration with the Alzheimer's Association has put in motion international efforts for the standardization of biomarkers in order to increase compatibility between different centers.
In response to the initial NA-ADNI, several similar initiatives for the study of AD were put in place in Australia (Australian Imaging, Biomarkers and Lifestyle Flagship Study of Aging (AIBL)), Japan (Japanese Alzheimer's Disease Neuroimaging Initiative (J-ADNI)) and Europe (European Alzheimer's Disease Neuroimaging Initiative (E-ADNI)). China, South Korea, Taiwan and Argentina have recently started recruiting participants, while other countries, such as Brazil and India, are at the planning stages of setting up like-minded consortia (Figure
1
). This international approach will provide a multifaceted view of AD, finding the commonalities and differences across ethnicities and cultures, allowing cross-pollination and promotion of ideas, refinement of techniques, and improved assistance that can directly and/or indirectly affect the care, and potentially the cure, of this devastating disease. Furthermore, based on the ADNI model, imaging initiatives were organized around other neurodegenerative conditions such as the Parkinson Progression Marker Initiative [
8
].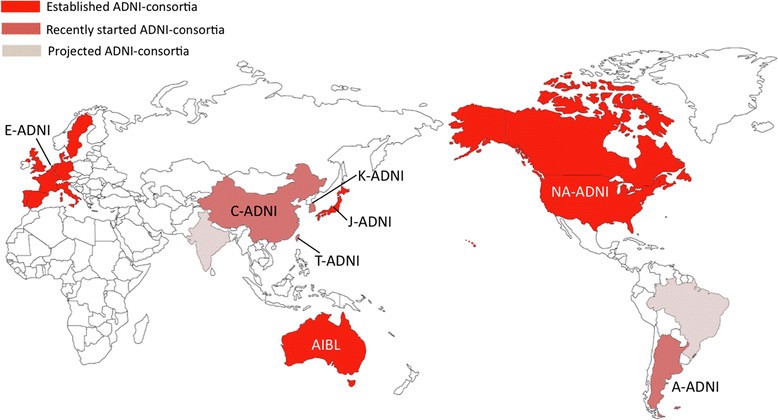 We shall present an overview of each of these initiatives, trying to highlight their similarities and dissimilarities, accomplishments and pending issues. From the outset we know this is a Herculean task, and that much will be overlooked. The omissions will be more a reflection of the reviewers' limitations than the initiatives they attempt to review.
Established Alzheimer's Disease Neuroimaging Initiative consortia
More recent Alzheimer's Disease Neuroimaging Initiative consortia
Argentina, China, Korea and Taiwan have recently joined the World Wide Alzheimer's Disease Neuroimaging Initiative (WW-ADNI)-like efforts in the study of AD. Another two countries are establishing the platforms to launch their respective studies. With arrangements already in place, Brazil plans to join the WW-ADNI in 2014 - aiming at the study of healthy older controls, individuals reporting subjective memory complaints, MCI and AD patients - while India is trying to secure funding for their planned 5-year prospective study.
Limitations
The limitations of the ADNI model are often acknowledged by ADNI researchers [7]. Some of these limitations are related to the study design, some of them are related to data collection, storage and analysis, and some are related to the potential misuse of the shared data. The study was designed as an observational, natural progression study, not as a clinical trial, so while it might identify relevant biomarkers and establish their behavior over time, it cannot predict how or how much those biomarkers will change in response to therapy. Another limitation is that the study uses sharply defined clinical groups in a specific age range, with a particular emphasis on memory impairment that might preclude the generalization of the findings to the general population; therefore, the study is not ideal to test the diagnostic properties of some biomarkers. Other studies, evaluating a large sample of individuals from the general population with a wide variety of comorbidities, will be required to assess the real impact of the contributions of the ADNI.
Another set of limitations are related to data collection, including how and when biological samples are collected, stored and analyzed [82], image quality across time and across centers, as well as what is not being collected or what other techniques are not being used [7]. For example, not all tests are administered to all participants. Within the same cohort this is illustrated by the fact that not all NA-ADNI participants undergoing CSF examination had FDG scans, and across cohorts by the fact that, while participants from the NA-ADNI had both FDG and CSF collected, these tests were not performed in the AIBL cohort. Another issue is missing data due to attrition (for example, death, dropout, or withdrawal) as well as some data that had to be discarded due to poor quality.
Finally, another issue that has been raised against ADNI results is that these results are mainly confirmatory. While the argument is valid in some cases, what is overlooked is that the confirmation, as well as the refutation, of the usefulness of certain biomarkers was performed in a large cohort of individuals, in contrast with the smaller samples used in the original evaluations. Not only that, the longitudinal design of the study also allows for the assessment of the change of those biomarkers over time. This cross-sectional and longitudinal validation of biomarkers in a large cohort is a necessary step in order to translate these biomarkers into clinical practice.
Conclusions
The prospective and multidisciplinary approach adopted by the ADNI has made substantial contributions to the understanding of cognitive and physiological changes associated with aging in general, and the AD spectrum in particular. Furthermore, the identification and validation in a large cohort of specific biomarkers provides a framework to assess AD risk in individuals prior to the onset of the clinical phenotype, while eventually allowing evaluation of the therapeutic and lifestyle interventions likely to emerge within the next decade aimed at preventing or delaying the onset of symptoms. Data gathered from different ADNI sites concurred in showing that some of the pathological changes characteristic of the disease are already present at the preclinical and prodromal stages, eventually leading to the postulation of new diagnostic criteria based on markers of pathology (Aβ) and markers of neuronal injury [83]-[85]. The implementation of the new staging criteria for preclinical AD [84] in an independent cohort showed that about 25% of the cases presented with AD-like neurodegeneration but no significant Aβ deposition, leading to the introduction of an additional category labeled 'suspected non-Alzheimer's disease pathology' [86]. Some of these biomarkers have also been used to predict the rate of evolution of the preclinical changes and the onset of the clinical phase of AD, crucial for the design and timing of disease-specific interventions. For example, CSF [20],[68] and Aβ imaging studies [20],[68] have shown that extensive Aβ deposition precedes significant cognitive impairment by more than 15 to 20 years, results that were further validated in a different cohort [87]. One issue to be highlighted is that these estimates of a process that probably extends decades were derived from still relatively short longitudinal assessments. Longer follow-ups will be required to reassess and revise the current results [20],[68],[87].
We are still not aware of the full impact of the ADNI. Only time will be able to judge the enormous contribution, founding blueprint, and insightful roadmap that the ADNI provided to the study of AD. What we do know is that the ADNI way of doing business, sharing data and joining efforts, setting standards and fostering collaborations, multimodal approaches and international cooperation are already among its most remarkable accomplishments, and that these interactions and cross-pollination inform, reform and transform ongoing and newly developed research protocols, while at the same time setting standards and validating biomarkers and techniques that can hopefully be translated to clinical practice and disease-modifying therapeutic trials. We are also acutely aware that we aimed at describing the ocean, and as yet have only been able to provide a glass of water - such is the complexity of the study of AD.
Authors' contributions
VLV and TI participated in the design and writing of this review, and drafting of the manuscript. All authors were responsible for critical revision of the manuscript for important intellectual content. All authors read and approved the final manuscript.
Abbreviations
AD:

Alzheimer's disease
ADNI:

Alzheimer's Disease Neuroimaging Initiative
AIBL:

Australian Imaging, Biomarkers and Lifestyle Flagship Study of Aging
ApoE:

Apolipoprotein E
Aβ:

Amyloid-beta
Aβ–:

Low amyloid burden
Aβ+:

High amyloid burden
CSF:

Cerebrospinal fluid
E-ADNI:

European Alzheimer's Disease Neuroimaging Initiative
FDG:

Fluorodeoxyglucose
J-ADNI:

Japanese Alzheimer's Disease Neuroimaging Initiative
MCI:

Mild cognitive impairment
MRI:

Magnetic resonance imaging
NA-ADNI:

North American Alzheimer's Disease Neuroimaging Initiative
PET:

Positron emission tomography
PiB:

Pittsburgh Compound B
WW-ADNI:

World Wide Alzheimer's Disease Neuroimaging Initiative
Authors' Affiliations
(1)
Department of Nuclear Medicine and Centre for PET, Austin Health, Heidelberg, Australia
(2)
The Florey Institute for Neurosciences and Mental Health, The University of Melbourne, Melbourne, Australia
(3)
Department of Medicine, The University of Melbourne, Melbourne, Australia
(4)
Asan Medical Center, University of Ulsan Medical College, Songpa-Gu, Korea
(5)
Department of Neuropathology, School of Medicine, The University of Tokyo, Bunkyo-ku, Tokyo, Japan
Copyright
© Villemagne et al.; licensee BioMed Central 2014
This article is published under license to BioMed Central Ltd. The licensee has exclusive rights to distribute this article, in any medium, for 12 months following its publication. After this time, the article is available under the terms of the Creative Commons Attribution License (http://creativecommons.org/licenses/by/4.0), which permits unrestricted use, distribution, and reproduction in any medium, provided the original work is properly credited. The Creative Commons Public Domain Dedication waiver (http://creativecommons.org/publicdomain/zero/1.0/) applies to the data made available in this article, unless otherwise stated.