Angiotensins and Alzheimer's disease: a bench to bedside overview
Alzheimers Res Ther
2009
1:3
Abstract
The pathology of Alzheimer's disease (AD) features amyloid β peptide deposition, intracellular neurofibrillary tangles and deficits in the cholinergic pathway. Abnormal blood pressure is recognised as a risk factor for the development of AD, although the underlying mechanisms remain unproven. This review proposes angiotensins and associated enzymatic pathways as important mediators of recognised but undefined links between blood pressure and AD. Evidence in support of this involvement translates consistently from the most basic in vitro, in vivo and ex vivo experimental paradigms to more complex human-based observational and experimental studies, which also fortunately offer potential for therapeutic interventions against AD.
Keywords
Perindopril
Cerebral Amyloid Angiopathy
Olmesartan
Renin Angiotensin System
Imidapril
Prevailing hypotheses of Alzheimer's disease pathogenesis
Alzheimer's disease (AD) [MIM 104300], as the most common form of progressive dementia, is characterised neuropathologically by the presence of intracellular neurofibrillary tangles and features resulting from the deposition of amyloid β-peptide (Aβ) extracellularly in the form of senile plaques and within blood vessels in the brain in the form of cerebral amyloid angiopathy. The pathogenesis of AD is understood to be partly explained by mechanisms involved with (but not restricted to) two of the most prevailing hypotheses: the Aβ cascade hypothesis and the cholinergic hypothesis. The Aβ cascade hypothesis, which developed in the early 1980s, suggests that the commonly observed neurodegenerative abnormalities of AD, particularly senile plaques, develop following the accumulation of the 39 to 42 amino acid peptide Aβ in the brain [
1
]. This accumulation of Aβ is likely a consequence of imbalance between production of Aβ from amyloid precursor protein (APP; Figure
1
) and its removal. Aβ removal can be mediated via drainage through interstitial fluid in the space surrounding blood vessels in the brain, by receptor-mediated transport of Aβ from the brain to the peripheral circulation, by enzymatic degradation or various combinations of all the these [
1
]. Over the years the Aβ hypothesis has not been universally accepted due to its perceived failing that brain Aβ deposition correlated poorly with cell death or disease severity in AD whereas neurofibrillary tangle pathology, another established neuropathological hallmark for AD, correlated better and, as such, was suggested to be more relevant, with Aβ representative of a secondary phenomenon [
2
]. Yet this failing was arguably addressed in the past decade with the identification of soluble and diffusible oligomeric forms of Aβ that are now thought to be the more harmful forms and which have been correlated with AD pathogenesis [
3
]. Furthermore, questions have now arisen as to whether neurofibrillary tangles are merely a marker of disease progression and not, in fact, a mediator of cell death as has been proposed (see [
3
,
4
] for reviews).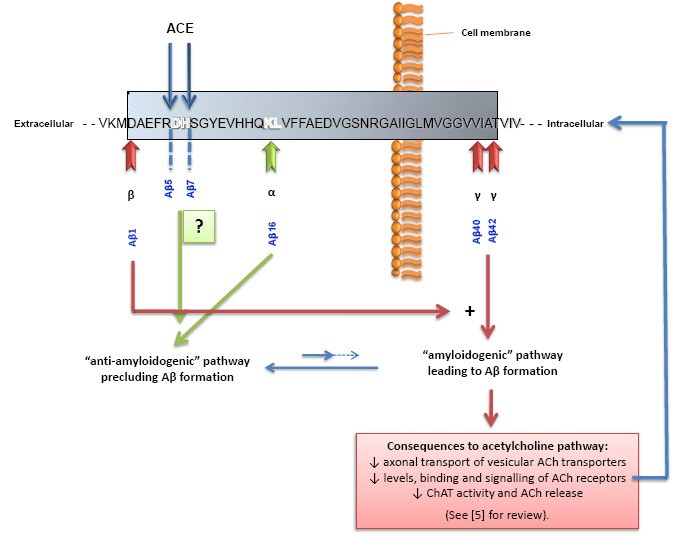 The cholinergic hypothesis posits that loss of cholinergic function (derived from the action of the neurotransmitter acetylcholine (ACh)) in the central nervous system is a significant part of the cognitive decline associated with AD (see [5] for a review; Figure 1). This hypothesis pre-dates the seeds of the Aβ cascade hypothesis but is supported by considerable evidence that there is reduced synthesis and altered transport of ACh, selective loss of cholinergic neurons, disruption of ACh receptor signalling, as well as reductions in the levels of these receptors in AD brains (see [5] for a review). Indeed, the majority of licensed 'cholinesterase' therapeutics currently used to treat and partially delay some of the progressive symptoms of AD are drugs that target acetylcholinesterase-mediated breakdown of ACh, thereby increasing the amount and prolonging the life of ACh in the brain [5]. Importantly, neither of the properties of these hypotheses exist in isolation and there is now a body of evidence supporting complex levels of interaction between the two and, more than likely, with other systems that fall beyond the scope of this review (see [5] for a review; Figure 1).
The renin angiotensin system
The renin angiotensin system (RAS) is best known for its role in the kidney in controlling blood pressure and bodily fluid homeostasis. The 'classical' RAS is known by the role of renin in cleaving inactive angiotensinogen to produce angiotensin (Ang)I, which is, in turn, converted by angiotensin-1 converting enzyme (ACE) to the (vaso-)active AngII [
6
]. AngII exerts its well known hypertensive effects following binding to its two receptors (AT
1
R and AT
2
R) [
7
]. However, the past two decades have revealed that the classical RAS was only the tip of the iceberg of what is now known to be a very complex system involving new AngI and AngII metabolites, additional receptors and regulating mechanisms (see [
7
] for a review; Figure
2
). This added complexity has also offered new potential therapeutic targets for hypertension in addition to those already targeting the RAS through inhibition of ACE (ACE inhibitors (ACE-Is)) or by preventing AngII from binding its receptors (angiotensin receptor blockers (ARBs)) [
8
] (Figure
2
).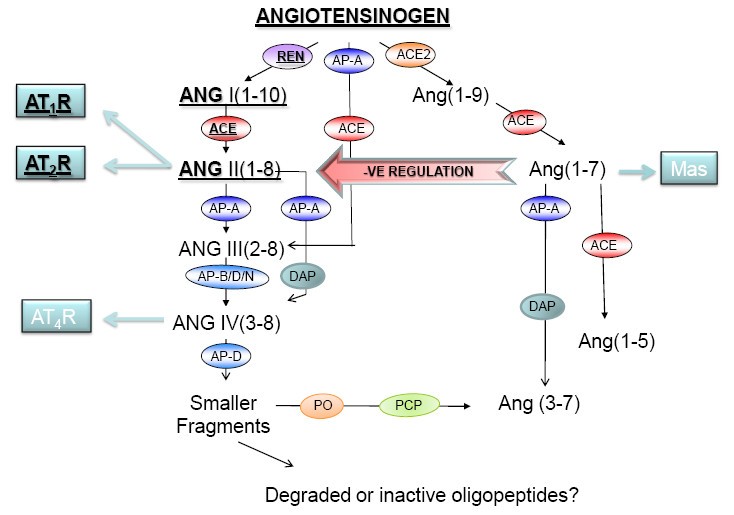 The relevance of the renin angiotensin system to Alzheimer's disease
Conclusion
Studies over the past two decades have added to our knowledge of the pathways involved in the pathogenesis of AD, including alterations to ACE and other angiotensin-related components of the RAS. Whether these are primary mediators or secondary consequences of the disease still remains to be shown, however, and further studies are certainly needed. There may be insufficient evidence at this time with which to make a final judgement as to what benefit or consequences ACE-Is or ARBs have on the development or progression of AD, but there is sufficient evidence to justify more measured consideration when prescribing ARBs or ACE-Is for hypertension as well as active future study of how pharmacological targeting of AngII in this pathway could offer therapeutic value in mitigating against secondary pathogenic Aβ-mediated changes in AD.
Abbreviations
Aβ:

amyloid β peptide
ACE:

angiotensin-1 converting enzyme
ACE-I:

ACE inhibitor
ACh:

acetylcholine
AD:

Alzheimer's disease
Ang:

angiotensin
APP:

amyloid precurser protein
ARB:

angiotensin receptor blocker
AT1R/AT2R:

angiotensin II receptors
BBB:

blood brain barrier
CSF:

cerebrospinal fluid
Indel:

insertion/deletion polymorphism
RAS:

renin angiotensin system.
Declarations
Acknowledgements
The author is funded by the Sigmund Gestetner Foundation and would like to thank Dr Scott Miners for helpful comments on the manuscript.
Authors' Affiliations
(1)
Dementia Research Group, Institute of Clinical Neurosciences, Department of Clinical Science at North Bristol, University of Bristol, Frenchay Hospital, Bristol, UK
Copyright
© BioMed Central Ltd 2009