Autophagic/lysosomal dysfunction in Alzheimer's disease
Alzheimer's Research & Therapy
2013
5:53
Published: 29 October 2013
Abstract
Autophagy serves as the sole catabolic mechanism for degrading organelles and protein aggregates. Increasing evidence implicates autophagic dysfunction in Alzheimer's disease (AD) and other neurodegenerative diseases associated with protein misprocessing and accumulation. Under physiologic conditions, the autophagic/lysosomal system efficiently recycles organelles and substrate proteins. However, reduced autophagy function leads to the accumulation of proteins and autophagic and lysosomal vesicles. These vesicles contain toxic lysosomal hydrolases as well as the proper cellular machinery to generate amyloid-beta, the major component of AD plaques. Here, we provide an overview of current research focused on the relevance of autophagic/lysosomal dysfunction in AD pathogenesis as well as potential therapeutic targets aimed at restoring autophagic/lysosomal pathway function.
Keywords
Amyloid Precursor ProteinCerebral Amyloid AngiopathyAutophagy InductionAmyloid Precursor Protein ProcessingLysosomal Acidification
Introduction
Alzheimer's disease (AD) is the most prevalent neurodegenerative disease and cause of dementia in the older population. It targets brain regions responsible for complex cognitive function and gradually destroys patient memories and quality of life [1]. Neuropathologically, brains of patients with AD are characterized by the presence of two hallmark proteinaceous aggregates: extracellular amyloid-beta (Aβ) plaques and intracellular neurofibrillary tangles (NFTs). As the disease progresses, affected brain regions succumb to toxic insult as evidenced by gross neuronal loss and brain atrophy [1]. Autosomal dominant mutations in amyloid precursor protein (APP), presenilin 1 (PS1), and presenilin 2 (PS2) cause early-onset familial AD. However, aging is the greatest risk factor for developing AD, and the vast majority (>95%) of AD cases develop sporadically without a clear genetic component or etiology.
The Aβ peptide is generated by sequential cleavage of transmembrane APP by integral membrane β- and γ-secretases. The multi-protein γ-secretase enzyme complex requires a catalytic presenilin (PS1 or PS2) protein. Although Aβ generation can occur at the plasma membrane, the majority of Aβ is generated intracellularly via the endocytic and secretory pathways. As disease progresses, Aβ accumulates to form extracellular insoluble plaques [1, 2]. NFTs are formed mainly of the hyperphosphorylated microtubule-associated protein tau. Physiologically, tau regulates microtubule stabilization; during pathological conditions, it becomes hyperphosphorylated and misfolded and aggregates to form intracellular inclusions [1]. Tau-positive inclusions are not unique to AD but can be found in other neurodegenerative disorders.
Prior to Aβ accumulation, neurons display endocytic pathway dysfunction, implicating it as a seminal event in pathogenesis [3]. The endocytic pathway merges with the autophagic-lysosomal system to degrade and recycle proteins. Autophagy is a highly conserved cellular catabolic process by which cytoplasmic material undergoes lysosomal degradation to clear long-lived proteins and organelles [4–7]. Mammalian autophagy occurs during physiologic conditions and becomes upregulated in response to certain cellular stressors, such as protein accumulation and aggregation as an attempt to clear excess protein burden [4, 7].
The three forms of autophagy – macroautophagy, microautophagy, and chaperone-mediated autophagy – all target cytoplasmic content to the lysosome for degradation. Exclusively, this review will focus on macroautophagy, which will be referred to as autophagy from here forward. Autophagy induction involves the formation of a double-membranous structure, the phagophore, which elongates and fuses around the cytoplasmic content targeted for degradation [
4
]. The membranous source for phagophores may arise
de novo
from pre-existing intracellular materials such as the endoplasmic reticulum (ER), golgi apparatus, and mitochondrial and plasma membranes [
4
,
8
]. The fused structure, now called an autophagosome, delivers its contents to the lysosome through autophagosomal-lysosomal fusion to form an autolysosome, where protein degradation occurs (Figure
1
). Amino acids and other metabolic products generated by this digestion are released for reuse, marking the completion of autophagy [
4
,
7
,
8
].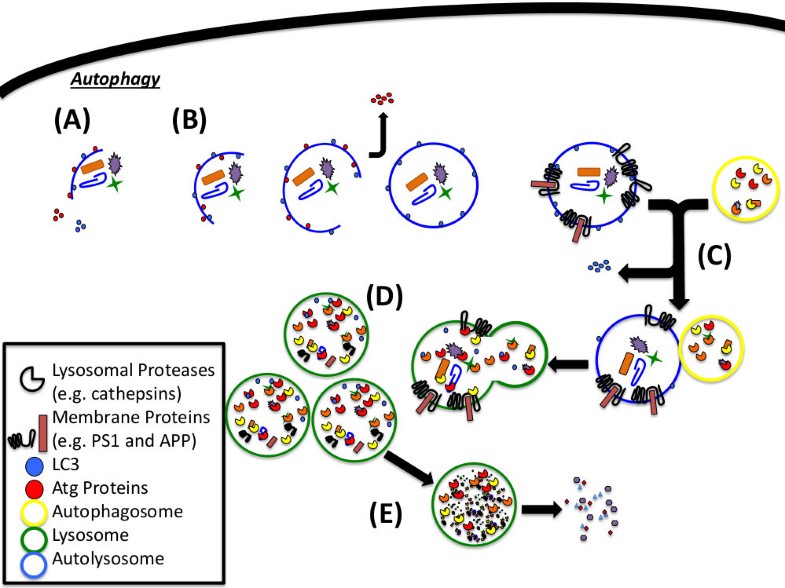 The endosomal-lysosomal system inherently bears potential to participate in AD pathogenesis as it is a prominent site of APP processing, Aβ uptake, and Aβ production. Here, we will review the mounting evidence implicating autophagic/lysosomal dysfunction in AD. Additionally, we will highlight therapeutic targets aimed to restore autophagic/lysosomal protein degradation that prove efficacious in animal models and hold potential to translate to patients with AD.
Conclusions
Growing interest suggests an involvement of autophagy in several neurodegenerative disorders, especially those characterized by protein accumulation, including AD and Huntington's disease [67]. This is not surprising given the role of autophagy in protein turnover. Facilitating autophagy-mediated protein degradation is an attractive therapeutic intervention in AD and related disorders. However, the dichotomy between the beneficial effects of upregulating autophagy induction early in disease, and ineffective or perhaps even detrimental effects in late disease, underscore the need for further studies [16, 20, 52, 64]. Therefore, therapeutic strategies require careful consideration as enhancing autophagy induction in patients with advanced disease may exacerbate pathology; indeed, upregulating autophagy in other diseases with lysosomal impairment exacerbates pathology and behavior deficits [68]. Suppressing autophagy has beneficial effects on enzyme replacement therapy for Pompe disease, a type of lysosomal storage disorder providing evidence that in certain situations blocking autophagy may prove beneficial [69]. Although an appreciation of autophagic dysfunction in AD certainly has grown over the past several years, the field remains in its infancy. More studies are needed to fully elucidate the potentials of modulating autophagy as a viable therapeutic approach for AD.
Abbreviations
AD:

Alzheimer's disease
APP:

Amyloid precursor protein
AV:

Autophagosome vacuole
Aβ:

amyloid-beta
BACE-1:

β-site amyloid precursor protein-cleaving enzyme 1
ER:

Endoplasmic reticulum
LSD:

Lysosomal storage disorder
mTOR:

Mammalian target of rapamycin
NFT:

Neurofibrillary tangle
PS1:

Presenilin 1
PS2:

Presenilin 2
TFEB:

Transcription factor EB
TPC:

Two-pore channel.
Declarations
Acknowledgments
This work was supported by a National Institutes of Health grant to SO (AG037637-03). MEO is supported by a training grant from the National Institute on Aging (T32 AG021890).
Authors' Affiliations
(1)
Department of Physiology and The Barshop Institute for Longevity and Aging Studies, University of Texas Health Science Center at San Antonio, San Antonio, USA
(2)
Banner Sun Health Research Institute and Department of Basic Medical Sciences, University of Arizona College of Medicine-Phoenix, Sun City, USA
Copyright
© BioMed Central Ltd. 2013