Evidence for impaired amyloid β clearance in Alzheimer's disease
Alzheimer's Research & Therapy
2013
5:33
Abstract
Alzheimer's disease (AD) is a common neurodegenerative disease characterized by the accumulation of extracellular plaques and intracellular tangles. Recent studies support the hypothesis that the accumulation of amyloid beta (Aβ) peptide within the brain arises from an imbalance of the production and clearance of Aβ. In rare genetic forms of AD, this imbalance is often caused by increased production of Aβ. However, recent evidence indicates that, in the majority of cases of AD, Aβ clearance is impaired. Apolipoprotein E (ApoE), the dominant cholesterol and lipid carrier in the brain, is critical for Aβ catabolism. The isoform of ApoE and its degree of lipidation critically regulate the efficiency of Aβ clearance. Studies in preclinical models of AD have demonstrated that coordinately increasing levels of ApoE and its lipid transporter, ABCA1, increases the clearance of Aβ, suggesting that this pathway may be a potential therapeutic target for AD.
Keywords
Amyloid BetaBexaroteneImpaired ClearanceApoE4 MouseApoE Receptor
Introduction
Alzheimer's disease (AD) is the most common form of dementia. It affects nearly 27 million people worldwide, and an estimated 4.6 million new cases were diagnosed this year. Nearly 60% of those afflicted live in the Western world and the majority of these individuals are over 65 [1]. The memory loss and cognitive decline that accompany AD impart a heavy burden both emotionally and financially on patients and their families. Pathologically, AD is characterized by the presence of extracellular plaques composed of aggregated amyloid beta (Aβ) and intraneuronal tangles composed of hyperphosphorylated tau. Aβ is a peptide formed by the sequential cleavage of amyloid precursor protein (APP) by β-secretase (BACE1) and γ-secretase. Evidence from genetic, biochemical, and animal model studies strongly supports the hypothesis that Aβ is a causative agent in the pathogenesis of AD [2]. There is growing evidence that impaired clearance of Aβ (specifically of the hydrophobic form, Aβ42) is responsible for the most common type of AD: sporadic or late-onset AD (LOAD). Age is the greatest overall risk factor for developing LOAD. However, the APOEε4 allele is the strongest genetic risk factor for LOAD as the ApoE4 isoform is less efficient than ApoE2 or ApoE3 at promoting Aβ clearance. In this review, in vivo evidence supporting the hypothesis that impaired clearance of Aβ contributes to the development of AD will be covered, along with the current understanding of the influence of apolipoprotein E (ApoE) and cholesterol metabolism on Aβ clearance in the central nervous system.
Conclusions
Growing evidence from mouse models of AD and
in vivo
SILK studies in humans indicates that impaired clearance of Aβ leads to the development of AD pathology. ApoE plays an important role in mediating Aβ clearance through multiple mechanisms, as depicted in Figure
1
. The expression of ApoE and ABCA1 is regulated by the activation of type II nuclear hormone receptors (LXR, PPARγ, and RXR). ApoE is lipidated predominantly by ABCA1. Lipidated ApoE promotes the intracellular degradation of Aβ by enzymes like neprilysin through its cholesterol efflux function. Extracellular degradation of Aβ by IDE is more efficient in the presence of highly lipidated ApoE. Aβ can also directly bind to ApoE receptors and cross the BBB. ApoE4 is less effective than ApoE3 and ApoE2 at stimulating Aβ clearance, and this may explain, at least in part, why it is such a strong risk factor for AD. Targeting the type II nuclear receptors, such as RXRs, has shown promising therapeutic benefit in mouse models of AD. Treatment with LXR, PPARγ, and RXR agonists decreased Aβ pathology and improved cognition in various studies, supporting the hypothesis that increasing the level of lipidated ApoE may be a strong therapeutic strategy for AD.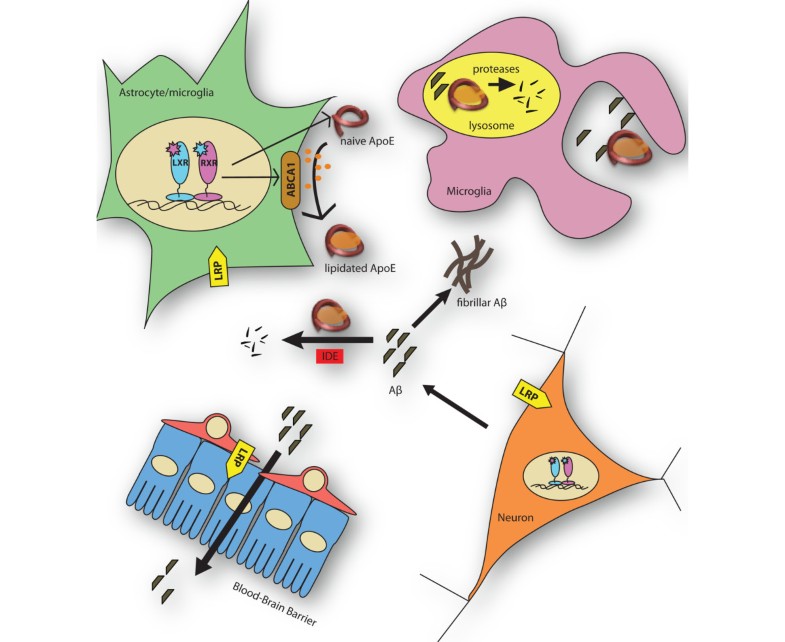 Abbreviations
Aβ:

amyloid beta
ABCA1:

ATP-binding cassette A1
AD:

Alzheimer's disease
ApoE:

apolipoprotein E
APP:

amyloid precursor protein
BBB:

blood-brain barrier
HDL:

high-density lipoprotein
IDE:

insulin-degrading enzyme
ISF:

interstitial fluid
LOAD:

late-onset Alzheimer's disease
LRP1:

lipoprotein receptor-related protein 1
LXR:

liver × receptor
PPARγ:

peroxisome proliferator-activated receptor gamma
RAGE:

receptor for advanced end glycation products
RXR:

retinoid × receptor
SILK:

stable isotope-labeling kinetics.
Declarations
Acknowledgements
This work was supported by grants to GL from the National Institutes of Health (AG16740 and AG030482). The funding agenicies played no role in the writing or publication of this review.
Authors' Affiliations
(1)
Development Sciences, Genentech, Inc., South San Francisco, USA
(2)
Department of Neurosciences, Case Western Reserve University School of Medicine, Cleveland, USA
Copyright
© BioMed Central Ltd 2013