Resting state functional MRI in Alzheimer's Disease
Alzheimer's Research & Therapy
2012
4:2
Published: 10 January 2012
Abstract
Resting-state functional magnetic resonance imaging (fMRI) is emerging as an interesting biomarker for measuring connectivity of the brain in patients with Alzheimer's disease (AD). In this review, we discuss the origins of resting-state fMRI, common methodologies used to extract information from these four-dimensional fMRI scans, and important considerations for the analysis of these scans. Then we present the current state of knowledge in this area by summarizing various AD resting-state fMRI studies presented in the first section and end with a discussion of future developments and open questions in the field.
Keywords
Mild Cognitive ImpairmentFunctional ConnectivityIndependent Component AnalysisAmyloid DepositionDefault Mode Network
Alzheimer's disease (AD) is a multifaceted disease in which cumulative pathological brain insults result in progressive cognitive decline that ultimately leads to dementia. Amyloid plaques, neurofibrillary tangles, and neurodegeneration are the well-established pathological hallmarks of AD. In addition to existing imaging biomarkers to measure each of these pathologies, resting-state functional magnetic resonance imaging (rs-fMRI) is an emerging AD biomarker that provides a non-invasive method to measure subtle functional changes in the brain. The most salient feature of rs-fMRI in AD is the ease of data acquisition in patients with dementia, specifically the ability to measure functional connectivity changes without requiring the performance of a task. Also, this MRI sequence can be obtained easily during routine clinical structural MRI sessions. This paper provides a review of rs-fMRI in AD and is divided into three sections: (a) the origins of rs-fMRI, methods that are widely used, and pitfalls that are typically seen in rs-fMRI studies; (b) the published resting-state literature in AD, and (c) a discussion of future developments and open questions in the field.
A. Low-frequency fluctuations: origins, methods, and pitfalls
Origins
Resting-state fMRI is a relatively recent addition to the tools used by the neuroscientific community to investigate the functional connectivity in the human brain. The foundations of functional connectivity began to emerge in the 1960s when neurophysiologists, who were studying action potential firing trains from single neurons, recognized the importance of characterizing the relationship of one neuron's firing pattern to other neurons firing at the same time [1]. At its most rudimentary level, functional connectivity represents a measure of the correlated signal from two or more spatially distinct regions over time. Over the years, this concept has been applied to a variety of techniques used in neuroscience (for example, electroencephalography, magnetoencephalography, and corticography). However, it was not employed in fMRI until the 1990s [2], and not until 1995 did investigators first observe that low-frequency fluctuations (0.1 to 0.01 Hz) in the blood oxygen level-dependent (BOLD) signal were highly correlated within the motor cortex [3]. These low-frequency fluctuations have since been shown to be specific to gray matter [3, 4] and can be used to identify the spatial extent of temporally correlated networks of structural and functional connectivity within the brain [5–9]. These large-scale networks are present at all times in the living human brain, and analysis of task-based fMRI experiments gives results similar to those of 'resting state' fMRI paradigms when subjects are not given a specific task [10]. The importance of this finding cannot be understated and implies that large-scale networks of functional connectivity that are interrogated with task-based fMRI paradigms are the same networks interrogated during fMRI paradigms that do not have a specific task (that is, rs-fMRI). Task-based fMRI paradigms are likely interrogating a specific arrangement of the underlying large-scale networks of functional connectivity within the context of the experimental paradigm, whereas rs-fMRI studies interrogate these same networks without an experimentally determined context. The absence of a predetermined experimental task in rs-fMRI is the feature that led to the use of the moniker 'resting state' to describe this technique and the identified networks (that is, resting-state networks). However, given that these networks are present during tasks and that no brain is ever truly at 'rest', some investigators have offered the more accurate term of intrinsic connectivity networks (ICNs) [11] rather than resting-state networks. Use of the ICN moniker is gaining popularity and we will use this term for the remainder of the review. For the same reasons, we prefer the term task-free fMRI (TF-fMRI) rather than rs-fMRI. The absence of a predetermined experimental paradigm in TF-fMRI precludes the use of traditional fMRI methods for modeling the hemodynamic response related to experimentally isolated changes in the BOLD signal. Therefore, we will briefly review some of the most popular methods currently used to investigate ICNs in TF-fMRI and discuss potential confounds that these techniques are susceptible to before discussing the application of these techniques to studies related to AD.
Methods
Several methods have been developed to extract the spatial and temporal extent of ICNs from TF-fMRI data [12, 13]. The dominant methodologies can be segregated into region of interest-based or seed-based correlation studies and data-driven multivariate analysis techniques, such as independent component analysis (ICA), and are described in detail here.
1. Seed-based correlation studies
Seed-based techniques have an
a priori
assumption that the node or region involved in the ICN is known and these regions are used to extract the low-frequency fluctuations in the BOLD signal used in further analysis. The seed regions may consist of individual voxels, small collections of voxels within a spheroid seed, or large functionally/anatomically derived regions of interest (for example, Brodmann areas). The low-frequency fluctuations within this defined seed or region can then be correlated with every other voxel in the brain in a voxel-wise exploratory analysis to understand the seed-to-brain connectivity (Figure
1a
) or can be correlated only with another region or seed to analyze seed-to-seed connectivity. The sensory-motor ICN was first demonstrated in fMRI by using a seed-based methodology [
3
], as was the prominent ICN known as the default mode network (DMN) [
14
] (see section B, 'Task-free functional magnetic resonance imaging Alzheimer's disease studies'). An example of the positive correlations in a seed-to-brain analysis using a spheroid seed of 6-mm radius in the posterior cingulate - MNI (Montreal Neurological Institute) coordinates = (-3, -51, 24) - is shown in Figure
1a
, and the negative correlations to the same seed are shown in Figure
2a
.


Alternatively, the correlations of the low-frequency fluctuations within a series of regions or seeds can be organized into a connectivity matrix (as shown in Figure
3
) and subjected to graph theoretical or network analysis [
15
]. Network analysis is a powerful tool that enables us to characterize the global as well as local functional connectivity characteristics of a group of nodes in the brain and provides us with a simple way to comprehensively compare the functional connectivity organization of the brain between patients and controls. The network metrics that can be characterized are thoroughly discussed in [
16
] and include functional segregation, integration, and resilience of the network to insult.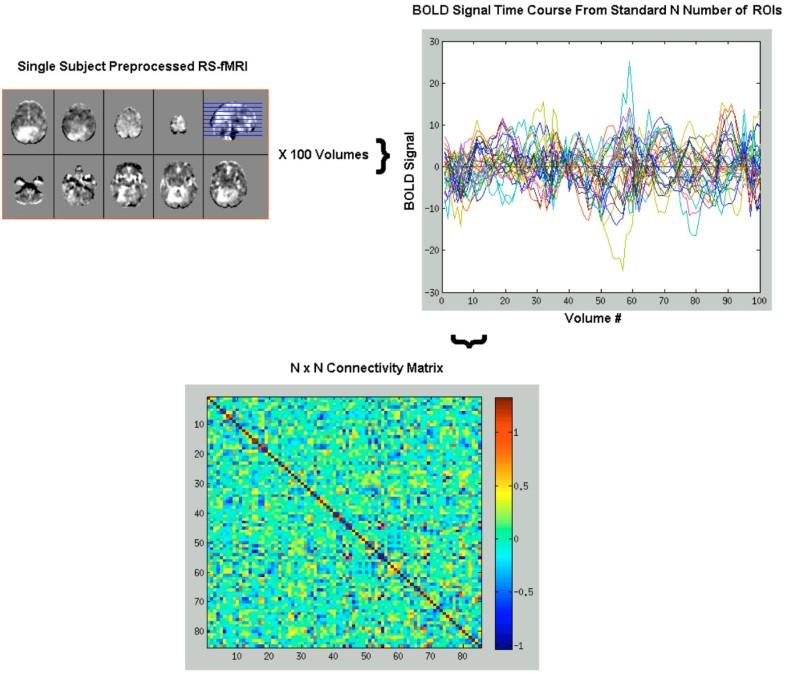 2. Data-driven methods
ICA is a data-driven multivariate analysis method that can be used to separate any multivariate signal into subcomponents that are mutually statistically independent. Since the fMRI signal observed is a summation of signals from multiple independent networks (ICNs) in the brain, ICA is ideally suited to separate each of the ICNs. ICA does not necessitate the a priori definition of regions from which low-frequency fluctuations are to be extracted and can extract ICNs by determining the maximal spatial and temporal independence of signals in the TF-fMRI data. This can be done at both the subject and group levels [17]. Examples of several ICNs that were identified as independent components at the group level in the same data used in the seed analyses are displayed in Figures 1b and 2b. These group-level ICNs can then be used to back-reconstruct individual subject ICNs [18].
Pitfalls
Several special considerations need to be accounted for while analyzing TF-fMRI studies. Some of the more prominent issues are listed here:
1. Signal contamination
All of these analyses necessitate several preprocessing steps to avoid signal contamination from non-neuronal sources of fluctuations in the signal time course, most prominently from movement and low-frequency oscillations induced from the cardiac and respiratory cycle [19]. Regressing out nuisance covariates (that is, bulk head motion parameters, white matter signal, cerebrospinal fluid signal, and global signal) from the signal time courses attempts to deal with these confounds [20]. However, bulk head motion may remain as a significant confound, specifically in patients with dementia; therefore, scanning sessions contaminated by significant motion are typically excluded from subsequent analysis. Removal of global mean signal improves the specificity of connectivity analysis [20] and is an attractive alternative to using physiologic cardiac and respiratory inputs as regressors [19] for reducing spurious direct correlations when MRI-compatible physiologic measuring systems are not available. This is necessary because gray matter has a capillary density significantly greater than that of white matter [21] and this variability is not accounted for by cerebral spinal fluid and white matter regression alone [20]. However, this increases the regions that have negative correlations or so-called 'anti-correlations' as the mean value for all voxels at every time point will be zero [22]. Figure 1a shows the positive correlations, and Figure 2a shows the negative correlations (that is, anti-correlations). Surprisingly, the regions that are anti-correlated are consistent within and between subjects for any given seed; however, the physiologic meaning of this relationship remains uncertain. This relationship is most prominent between regions defined as the task-positive network and the task-negative network [23]. Subregions within both of these anti-correlated ICNs seen in the seed analysis are identifiable with ICA applied to the same data (Figures 1b and 2b).
2. Age- and gender-related signal variability
The growth and development of ICNs have been observed through infancy into adulthood [9, 24–26]. In addition, group comparisons of functional connectivity between young adults and the elderly in two nodes of the DMN have demonstrated age-associated disconnection of anterior to posterior regions [27]. Also, a recent publication of a large multicenter cohort analyzed with both seed-based voxel-wise methods and ICA has demonstrated a significant age and gender effect on connectivity [28]. These studies suggest that there is a significant amount of change within ICN throughout the lifespan. Work from our lab recently demonstrated that the age effect on ICNs is accelerated in AD, further emphasizing the importance of understanding and accounting for the effect of age on TF-fMRI investigations of neurodegenerative illnesses [29].
3. Number of independent components in independent component analysis
Theoretically, the total or maximum number of ICNs is not deterministic in every human brain; therefore, setting the total number of independent components (or networks) that need to be extracted using ICA is ambiguous. If the number of independent components is set lower than the total number of ICNs in the brain, multiple ICNs might be fused together and not be well separated. On the other hand, specifying a larger number of independent components may split the existing ICNs into two or more subsystems (as shown by different ICNs detected by different colors in Figures 1b and 2b). While this remains an open question, recent studies have suggested that 20 independent components may be a reasonable assumption [10]. An additional point to note while looking at the networks from an ICA is that some components may contain artifacts that can be used to denoise subsequent analyses [30].
B. Task-free functional magnetic resonance imaging Alzheimer's disease studies
As mentioned above, rs-fMRI or TF-fMRI is becoming increasingly popular in the field of AD biomarkers. In this section, we present various published studies that have used the methods discussed in section A. We have broadly categorized the various TF-fMRI studies in AD and mild cognitive impairment (MCI) (prodromal stage of AD) into six groups and discuss the current state of knowledge in each of these.
C. Future developments and open questions
TF-fMRI can potentially add value to clinical assessment since it is an independent non-invasive measure of neuronal activity that cannot be captured by using structural brain scans. TF-fMRI has the potential to play several key roles in AD: making an early diagnosis, predicting future progression of disease, and measuring the efficacy of therapeutics and progression of disease. However, there are still issues that need to be systematically solved before TF-fMRI is ready for clinical applications.
Some of the necessary future developments in the field of TF-fMRI are (a) standardization of preprocessing methods for TF-fMRI scans, (b) development of analysis methodologies to extract information from TF-fMRI scans so that the measures are sensitive to detecting small functional changes and have good reproducibility, and (c) establishment of large population-based TF-fMRI databases to evaluate the variability and stability of large-scale networks in the general population.
The above developments will aid us in answering some important open questions in the field of TF-fMRI in AD: Is there a consistent breakdown of the functional architecture in AD because of increasing pathology? Do functional changes occur before or after the pathological changes due to AD? That is, are functional changes a response to pathology or catalysts to AD-related pathological changes? If there is a specific signature of functional architecture for each dementia, how can these be applied to provide a robust differential diagnosis and aid the clinical diagnosis of patients in the prodromal stages of dementia?
Abbreviations
AD:

Alzheimer's disease
APOE:

apolipoprotein E
BOLD:

blood oxygen level-dependent
CN:

cognitively normal
DMN:

default mode network
fMRI:

functional magnetic resonance imaging
ICA:

independent component analysis
ICN:

intrinsic connectivity network
MCI:

mild cognitive impairment
MRI:

magnetic resonance imaging
PET:

positron emission tomography
PPC:

precuneus/posterior cingulate
rs-fMRI:

resting-state functional magnetic resonance imaging
TF-fMRI:

task-free functional magnetic resonance imaging.
Declarations
Acknowledgements
PV receives support from National Institute on Aging grant K99 AG37573 (as principal investigator) and an Alzheimer's Association New Investigator Research Grant. CRJ receives support from National Institute on Aging grants R01 AG11378 (as principal investigator), P50-AG16574 (as co-investigator), and U01 AG024904-01 (as co-investigator) and the Alexander Family Alzheimer's Disease Research Professorship of the Mayo Foundation.
Authors' Affiliations
(1)
Department of Radiology, Mayo Clinic and Foundation, Rochester, USA
(2)
Department of Neurology, Mayo Clinic and Foundation, Rochester, USA
Copyright
© BioMed Central Ltd 2012